2012 Award Winners CASUAL DINING AWARD 2012
The Salty Dog Hotel & Bistro - Bangor, Co Down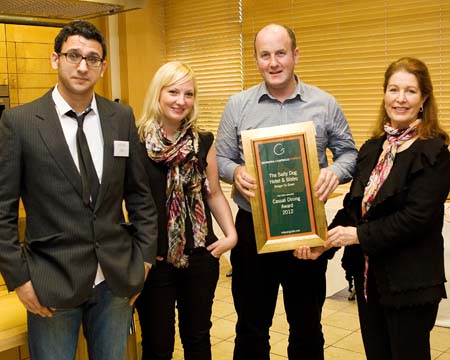 The leading restaurants in major cities, and their chefs, tend to hog the spotlight at awards and, while the size of the population means more top rank establishments to choose from, excellence is no respecter of location – or style. We introduced the Casual Dining Award a couple of years ago, to highlight the quality of smaller establishments, especially those serving outstanding daytime food. This year we have extended the concept to cover two categories – Café of the Year and this important Casual Dining Award, for more ambitious establishments.
With the growing popularity of informal dining, there's a trend for classically trained chefs to make a well-considered move from fine dining to more relaxed – and wallet-friendly - dining situations where there is greater spontaneity and a sense of fun.
Such a chef brings a multitude of skills - and, importantly, a lifelong commitment to using the freshest and best of in-season local produce – to a very different environment, where casual daytime meals are usually served as well as more structured lunch and/or dinner menus.
This demands greater flexibility - and, while quality is paramount, the style is informal and accessible. With an emphasis on fine cooking rather than fine dining, the dining experience at
The Salty Dog Hotel & Bistro
is very relaxed, and the creative menus offered throughout the day promise treats with every mouthful.
With just such a chef at the helm, backed up by great front of house staff and pleasing surroundings, this pleasing harbourside establishment is the Casual Dining destination par excellence.
Kenneth Sharp's boutique hotel is in a choice corner location overlooking Belfast Lough and Bangor Marina. Although dating back tof Victorian times, it offers contemporary style - together with the hands-on hospitality that is not easy to find in larg ...
more...
---
Show me all 2012 Award Winners