2007 Award Winners CHEF OF THE YEAR 2007
Stefan Matz, Ashford Castle, Cong, Co Mayo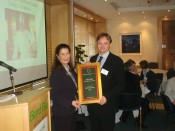 Ireland's grandest castle hotel and one of the most beautifully located establishments in all Ireland, Ashford Castle needs no introduction from me – it is, quite simply, stunning. And here, now, is man who will be remembered by those with longish memories for the extraordinary dining experience he and his brother offered for some years as proprietors of their own hotel at Ballyconneely – and most of all, perhaps, for his wonderful dish of turf-smoked beef that won one of the first New Irish Cuisine Chef of the Year competitions a decade ago.
Now Executive Head Chef, Stefan Matz oversees the cooking for all the food at Ashford Castle and, since joining the team in 2003, this highly skilled and likeable chef has worked wonders to introduce some gentle modernisation of menus, bring the varying dining operations together, and ensure high standards in each.
The style in the two castle restaurants - the intimate Connaught Room and the much large George V Dining Room - is broadly classical French, using the best of local ingredients - Atlantic prawns, Galway Bay sole, Cleggan lobster, Connemara lamb, and speciality produce like James McGeough's wonderful cured Connemara lamb from Oughterard - in sophisticated dishes that will please the most discerning diner.
Providing fine classical cuisine for these two magnificent restaurants – and also the light daytime meals offered in the Castle – would be a challenge by any standards but, this year, yet another string has been added to the indefatigable Mr Matz's culinary bow with the opening of Cullen's at The Cottage. This is a delightfully informal dining option in the grounds, which is open to the public, with none of the pomp and ceremony associated with the grandeur of meals served in the castle itself, and a menu leaning towards seafood.
Bringing all these operations together in a way that has contemporary relevance is no mean achievement and Stefan Matz is very deserving of the title Chef of the Year – and we thank him especially for breaking a precious short holiday in Austria, in order to be here with us today.
Ireland's grandest castle hotel, with a history going back to the early 13th century, Ashford Castle is set in 350 acres of beautiful parkland. Grandeur, formality and tranquillity are the essential characteristics, first seen in immaculately ma ...
more...
---
Show me all 2007 Award Winners