2007 Award Winners COUNTRY HOUSE OF THE YEAR 2007
Rathmullan House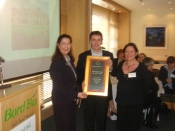 Donegal has an other-worldliness that is increasingly hard to capture in the traditional family holiday areas and, although it has grown a lot of over the years – most recently with the addition of an impressive extension including 10 lovely new bedrooms and a state of the art conference/banqueting facility for up to 80, which extends the season to an almost all-year business – the Wheeler family's gracious 19th century house still retains a laid-back charm and that special sense of place.
Set in lovely gardens, which run down to a clean sandy beach, Rathmullan House is a place where worldly cares seem very distant – and is also renowned for its excellent food, both in The Weeping Elm restaurant (where wonderful breakfasts are also served) and the two bars, where delicious informal meals are available.
With such sensitive development to meet the needs of a changing market and hands-on family management,
Rathmullan is the very model of a modern country house
.
Rathmullan House has a well deserved following for its unique blend of quality and informality, the fantastic location, family- and pet-friendliness, superb food and an innovative mindset - and it's in top form these days Set in lovely gardens on the ...
more...
---
Show me all 2007 Award Winners