2010 Award Winners COUNTRY HOUSE OF THE YEAR 2010
Gregans Castle - County Clare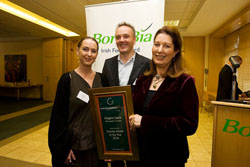 There's been a tendency for country houses to go all posh and designery in recent years – losing their essential character and becoming, in some cases, too much like hotels.
Not so this quietly luxurious place which, although it is actually categorised as an hotel, retains its essential country house character and a uniquely serene atmosphere. Set in solitary splendour in the lunar landscape of the Burren, and surrounded by trees and gardens, Simon and Freddie Haden's oasis of warmth, comfort and hospitality can be seen from miles around.
Spacious rooms, luxuriously furnished with understated contemporary style by Freddie, have lovely countryside views - and are deliberately left without the worldly interference of television.
It may surprise some guests to find that this quiet retreat is a serious fine dining destination - gifted head chef, Mickael Viljanen, revels in the commitment to using local and organic produce which has always been a key feature of Gregans Castle, but he cooks in a modern European style, and offers exciting menus, which include a daily changing nine course Tasting Menu in addition to a tempting à la carte.
Dishes which might not succeed in lesser hands are a triumph here: dinner is a special treat at Gregans Castle these days - and people travel from miles around to enjoy it; simpler souls might visit for the short à la carte lunch menu (very nicely served in The Corkscrew Bar) or delicious Afternoon Teas.
In addition to offering simple joys like warming turf fires and unparalleled views across the Burren landscape, this quietly luxurious country house has earned a reputation in recent years as one of Ireland's top food destinations. The present h ...
more...
---
Show me all 2010 Award Winners