2007 Award Winners ETHNIC RESTAURANT OF THE YEAR 2007
Rasam, Dun Laoghaire, Co Dublin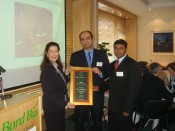 Ireland's fast-growing multi-cultural population has seen an explosion of ethnic restaurants over the last few years but few can offer the combination of authentic regional Indian cooking, style and good service that you will find in this appealing restaurant above The Eagle pub in Glasthule.
Here, you will find one of the country's most enjoyable and consistently excellent Indian dining experiences. Many special ingredients are used in the cooking here, including rare herbs and spices unique to the restaurant and all ground freshly each day – and two head chefs, from different regions, ensure that everything is made freshly on the premises, including the poppodums.
All round, for style, service and authenticity, Rasam is a rare treat indeed.


Sponsored by
Sharwood's
Above The Eagle pub in Glasthule, this is an appealing restaurant, impressively decorated in dark teak, with traditional Balinese furnishings and generous, well-spaced tables - and there is an open air garden area at the back. Rasam offers something d ...
more...
---
Show me all 2007 Award Winners