2012 Award Winners FAMILY FRIENDLY HOTEL OF THE YEAR 2012
Westport Woods Hotel - Westport County Mayo Ireland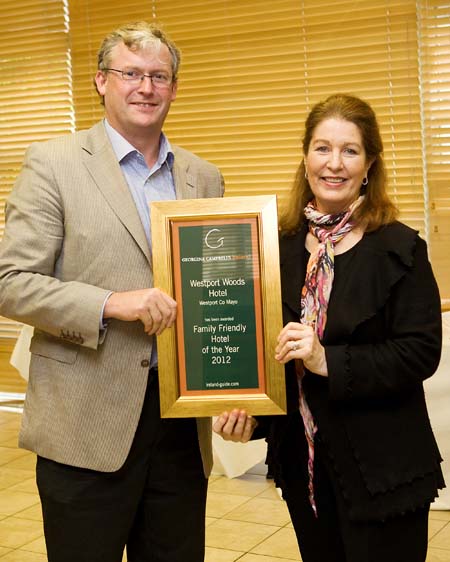 Family-friendliness is increasingly important in Irish hospitality as more people prefer to choose the simplicity, relaxation and - if chosen wisely - better value, that airport-free home holidays offer. Our Family-Friendly award is more highly valued each year, as times change; we look for the places that cater especially well for families by providing the range of services and activities for varying ages and interests that make for a stress-free break. With their leisure centres and other all-weather activities, the best family-friendly hotels are a very good option indeed.
And, from the moment guests enter the bright reception area of this eco-friendly, activity-focused 1960s hotel in the scenic North-West, it's obvious that there's someone who cares at the helm.
Décor isn't especially impressive, but attentive and genuinely interested staff are the great strength of this hotel - and the affable, hands-on owner manager seems to be everywhere, and is equally happy enthusing guests about the area's historical sights as fixing the hotel's wood pellet burner, or leading toddler guests round on ponies at his nearby riding stables.
Also well known for its special interest breaks,
Westport Woods Hotel
wins hands down as a family-friendly destination: the simple bonus of providing a complimentary "go!kids!" Club to entertain all ages from little ones to teens at arts and crafts, pony riding and disco-dancing while parents enjoy adult time makes it an effortless (and extremely reasonable) getaway for families.
From the moment you enter the bright reception area of this family-run, eco-friendly hotel you can tell there's someone who cares at the helm. Built in the late 1960s, the hotel was taken over by Michael Lennon and family: an affable, hands-on owner m ...
more...
---
Show me all 2012 Award Winners