2007 Award Winners FéILE BIA AWARD 2007
The Ballymore Inn, Co Kildare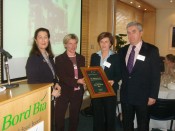 We next move to Co Kildare, where we find a bar and restaurant that gives out a few subtle hints about what's in store as you approach: the neatly painted cream and navy exterior, the clipped trees in tubs flanking the front door, the Féile Bia plaque - all bring a sense of anticipation.
Major renovations and extensions have changed the interior of this renowned estblishemnt recently, and this has made it possible to feed a lot more happy diners, without in any way detracting from the atmosphere, food or service. Aside from great food, hospitality is a strong point at this stylish bar - arriving guests are greeted at a reception area at the door, which makes you feel at home from the minute you walk in the door, and you will either be given a table in the front Café Bar area, which is set up in restaurant style with booths, or you can go through to the 'Back Bar', a big open plan bar with a vibrant atmosphere.
There's a bar specials board and a 'pizza & snack' menu offering homemade soup, delicious salads, warm panetella with various fillings and the famous Ballymore Inn speciality pizzas, which are based on artisan products and baked in a special pizza oven - Greek lamb with yoghurt for example... But this is beef country and the inn is renowned for its steaks - aged sirloin, perhaps, chargrilled and served with Crozier Blue & bacon sauce – although their Slaney lamb is almost equally popular.
Georgina O'Sullivan will be remembered by many for her days with Bord Bia, when she was a source of encouragement and inspiration for everyone interested in good food in Ireland - nobody understands the importance of careful sourcing better than she does and, as a matter of course, membership of the Féile Bia programme is highlighted on menus ("beef, lamb, bacon, chicken and eggs come only from recognised quality assured Irish farms"), and producers and suppliers are credited on dishes. So you will find mention through the menu of, for example, Penny Lange's local organic vegetables, Margaret McDonnells free range organic chicken, organic salmon from Clare Island, and Irish farmhouse cheese from Sheridans Cheesemongers in Dublin, who ensure that every cheese is correctly ripened before delivery.
And the policy of immaculate sourcing, careful cooking and a relaxed ambience have proved a winning formula, as this delightful place has become a must-visit destination for food lovers throughout the country, and beyond:
Féile Bia at its best
.
Sponsored by Bord Bia
It's the fantastic food that draws people to the O'Sullivan family's pub and it's wise to book well ahead to get a taste of the wonderful things this fine country kitchen has to offer. The neatly painted cream and navy exterior ...
more...
---
Show me all 2007 Award Winners