2007 Award Winners FéILE BIA DISH AWARD 2007
Kevin Dundon, Dunbrody Country House Hotel, Co Wexford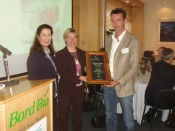 There is a lot of talk about 'modern Irish cooking' these days, but it's a rare enough treat to find it on your plate. But, down Wexford way, there's a chef who loves nothing better than taking the fine food of the area, adding a good dash of traditional inspiration and coming up with beautiful contemporary dishes that genuinely have their roots in the homely meals that have served us so well in the past.
The man in question is TV chef and cookbook author, Kevin Dundon, proprietor-chef of Dunbrody House, which he and his wife Catherine run as a luxurious country house hotel. He's well known for his love of locally produced food (the Harvest Room restaurant looks out across lawns to productive organic vegetable and fruit gardens, you don't get much more local than that), and his menus combine local produce and Irish themes – including many dishes from his book,
Full On Irish
, which tells the story of his respect for local Wexford produce.
Fresh fish is delivered daily from nearby Duncannon harbour, and shellfish from Kilmore Quay, meats are supplied by Wallace's butchers, of Wellington Bridge - and organic fruit, vegetables and herbs are, as far as possible, home grown.
Kevin Dundon's 'eat local' philosophy comes through on all his menus, and local meats like rack of Wexford lamb often top the bill – notably in the terrific house speciality, Roast Rack of Lamb with an Irish Stew Consommé, which is a modern twist on a very traditional theme, and a perfect example of what the Féile Bia Dish of the Year Award is all about: formal recognition of a dish that combines Irish produce, especially meat and vegetables, in an exceptionally creative way.
Sponsored by Bord Bia
Cookery School / Country House / Hotel / Restaurant
Set in twenty acres of parkland and gardens on the Hook Peninsula, just across the estuary from Waterford city, Catherine and Kevin Dundon's elegant Georgian manor was the ancestral home of the Chichester family and the long tradition of hospital ...
more...
---
Show me all 2007 Award Winners