Irish Breakfast Awards 2013 GUESTHOUSE BREAKFAST AWARD 2013
The Quay House, Clifden, Co Galway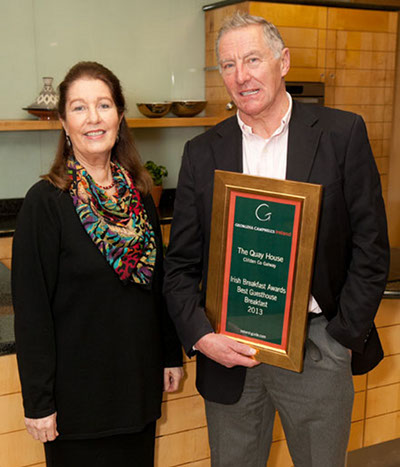 Although there are plenty of other reasons people love staying here, they've always done a great breakfast at The Quay House. The conservatory setting is charming, with a buffet laid out to tempt you on the way to your table, where there's a welcoming jug of freshly squeezed orange juice waiting.
Perfectly cooked hot dishes –the full Irish, or scrambled eggs with smoked salmon, perhaps - are all served with crisp toast, and fresh top-ups of tea and coffee. Simply delicious!
In a lovely location - right on the harbour, with pretty water views when the tide is in - The Quay House is the oldest building in Clifden and was built around 1820. Since then it has had a surprisingly varied usage: it was originally the harbourmast ...
more...
---
Show me all Irish Breakfast Awards 2013