2012 Award Winners HIDEAWAY OF THE YEAR 2012
The Mill Restaurant - Dunfanaghy, Co Donegal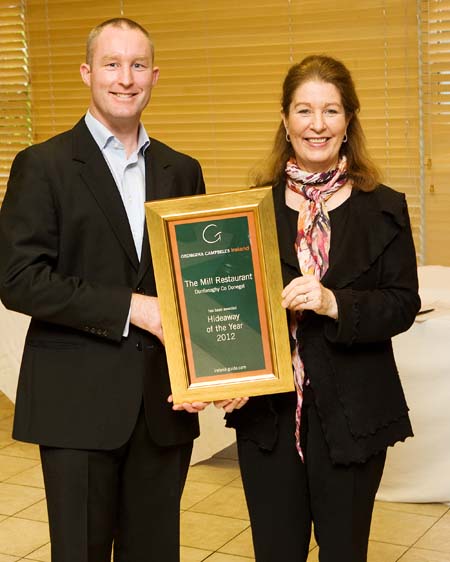 Everyone loves the idea of a hideaway, and this is one of our most popular awards. Whether it's the establishments itself which offers that sense of privacy and seclusion, or its location, there is something very appealing about a place that you can disappear to and escape everyday pressures.
This year's winner is in a stunningly beautiful area, yet it's a county that surprisingly few visitors reach (especially from the Dublin area); it has been in business for some years and has many repeat guests who would go nowhere else, yet it will be new to many. Beautifully located, in a special area of conservation, it was home to a well known painter - grandfather of one of the present owners – and is now a restaurant with rooms. It's one of the Guide's favourite annual destinations, not only for the excellent food (which is reason enough to visit) but also the discreet service, comfort, character and cosy ambience. We're loathe to shout about it to tell the truth, but it is a really lovely hideaway.
Beautifully located on the shore of the New Lake, which is a special area of conservation, the mill was the home of Susan Alcorn's grandfather and, as they are a family of accomplished painters, the walls are hung with wonderful watercolours. Su ...
more...
---
Show me all 2012 Award Winners