2012 Award Winners HOST OF THE YEAR 2012
Mary O'Connor, Derrynane Hotel, Caherdaniel, Co Kerry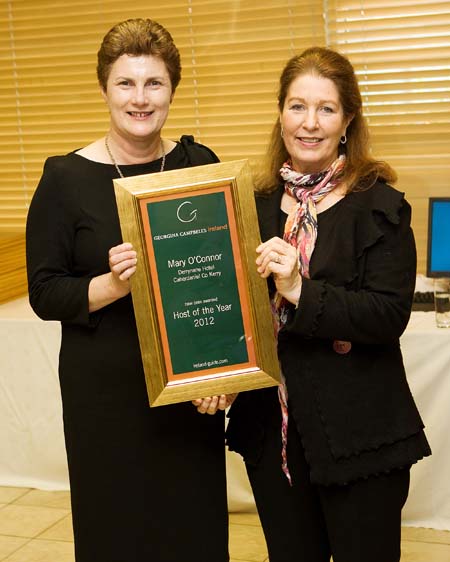 We have perhaps got a little paranoid about how others see us of late, but each time a visitor satisfaction survey is published the results are the same, with Ireland's wonderful scenery (still impressive, despite our best efforts over the last decade) and the warmth and friendliness of the people coming up trumps every time. There was some slippage in the boom years, when visitors were not always welcomed by people who knew the area they were visiting well, and staff in the larger establishments were often too busy to give the individual attention that makes a stay memorable.
But hospitality really does come naturally to the Irish and, among the owner-run properties particularly, we have many, many outstanding hosts who would be eligible for this important award in any given year.
A warm and caring host-manager can transform what might otherwise be a very ordinary hotel into a place with real heart, where every guest feels at home. This special person keeps a close eye on every aspect of management, not only ensuring the comfort and enjoyment of a disparate range of guests on site, but also introducing them to all of the best things the surrounding area has to offer - in this case very good things indeed, with a silver-sanded beach at the bottom of the garden and the whole of the Ring of Kerry to explore.
And, not only is nothing is too much trouble to ensure that guests are happy, but the staff are happy too and there's a great sense of teamwork - making
Derrynane Hotel
a place that departing guests want to return to as soon as possible. No mean feat!
---
Show me all 2012 Award Winners