2010 Award Winners HOST OF THE YEAR AWARD 2010
Kay McEvilly - Cashel House Hotel - County Galway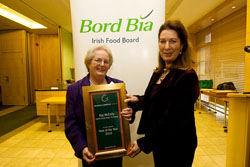 A natural talent for hospitality is the ace that Irish people keep up their sleeve – time and again visitor surveys confirm that, along with the landscape, it is mainly the warmth and engagement of the people that will keep them coming back. Many very special people have been recipients of this key award – one extraordinary lady was Vi McDowell, or 'Auntie Vi', of Gray's Guesthouse on Achill Island, who died earlier this year at the age of 99 and I'd like to pay tribute to her; she was a great trooper who took pride in overseeing her business and actively promoted Achill right to the end – when she received the award in 2005 we thought she was 85 but we were actually 10 years out!
This year's Host is a mere pup by comparison, but she is equally loved and respected, both by guests and within the industry. General and Madame de Gaulle's visit to Ireland in 1968 is often credited with putting the Gallic seal of approval on Irish hospitality and food, and I sometimes reflect on the fortunate choice made by the great man when planning his Irish holiday – not only did they find the wild beauty of Connemara awaiting them, but also the exceptionally warm and relaxed hospitality of hosts, Kay and the late Dermot McEvilly:
Kay is a caring and exceptionally perceptive host, knowing instinctively just when to make a contribution and when to hold back and give guests space. I recall a particular incident in the restaurant one evening that illustrated her talent for setting people at their ease, when a young couple – who, perhaps, had received a break as a gift or won a competition – seemed very ill at ease in the formal setting; going over to them and quietly chatting, Kay soon sussed the situation and seamlessly eased them through into the bar where they could enjoy their meal in relaxed surroundings.
Most recently she has thrown herself into the short residential Cashel House Garden Courses, so her hospitality is now extended to many fellow gardening enthusiasts as well as hotel guests – a delightful person, for whom nothing is ever too much trouble.
Kay and the late Dermot McEvilly were among the pioneers of the Irish country house movement when they opened Cashel House as a hotel in 1968. The following year General and Madame de Gaulle chose to stay for two weeks, an historic visit of which the ...
more...
---
Show me all 2010 Award Winners