2011 Award Winners HOSTS OF THE YEAR 2011
Neil & Noreen Harrington - Virginia's Guesthouse, Kenmare, Co Kerry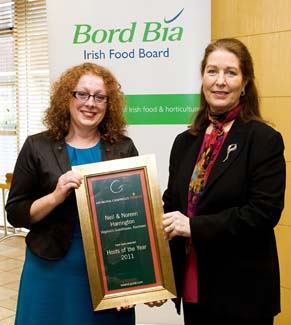 "Everybody loves Neil and Noreen Harrington's guesthouse in the centre of Kenmare, and the main reason is Neil and Noreen themselves, and the loving care they devote to every aspect of their business.
A friendly atmosphere prevails throughout from the moment of arrival, and everywhere there are little signs of care and attention, from the well tended window boxes that create a pleasant atmosphere on arrival, to the signs of freshly painted bedrooms and landings that show this well-cared for house as a constant work in progress.
Rooms are on the neat side but have very comfortable beds - and guests love the sense of TLC that pervades the house.
A nice touch is the provision of tea, water, and coffee facilities in a separate room also containing a well stocked library for book swops; at the last count there were 8 different teas, instant coffee and also ground coffee, to percolate or French press.
And these excellent hosts ensure that breakfast is a lovely experience, with everything of the best quality and many excellent choices, including free range eggs, and unusual options including pear with grilled bacon and blue cheese, on toasted homemade brown bread.
Neil and Noreen are interested and friendly, so each guest feels especially welcome, but in no way intrusive – and, best of all, perhaps, in a town that can be expensive to visit, their rates are reasonable and offer extremely good value for money."
Neil and Noreen Harrington's guestrooms in the centre of town are famous for their big comfortable beds, and have everything you could need including phone, television, safe and tea/coffee trays - and en-suite power showers. Now offered on a room-only ...
more...
---
Show me all 2011 Award Winners