IRISH BREAKFAST AWARDS 2011 HOTEL BREAKFAST
Kelly's Resort Hotel - Rosslare, Co Wexford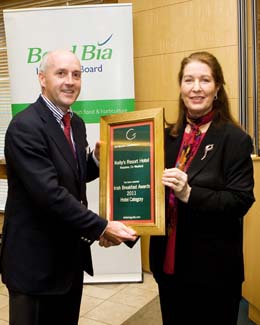 "Any hotel that offers alternative styles for breakfast – table service in the main restaurant set up with crisp linen, and a Sunshine buffet in a more casual family-friendly room, where a chef cooks poached eggs, omelettes and fried eggs to order - has put a lot of thought into the differing needs of its various guests.
And, in the case of Kelly's of Rosslare, this is followed through with an excellent quality, presentation and choice of foods including fish options."
With its special brand of relaxed professionalism, the Kelly family's renowned beachside hotel sums up all that is best about the sunny south-east for many regular visitors. Perhaps it's because its history in the same family spans three c ...
more...
---
Show me all IRISH BREAKFAST AWARDS 2011