2014 Award Winners 'JUST ASK' RESTAURANT OF THE YEAR 2014 SPONSORED BY BORD BIA
Belleek Castle, Ballina, Co Mayo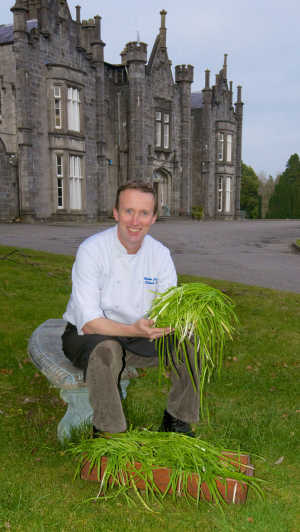 "Just Ask!" is a public awareness campaign that aims to encourage consumers when eating out to look for information on where the food (particularly meat) on their plate comes from, and encourages chefs to provide this information on their menus. The programme supports both large and smaller artisan suppliers, encouraging both Irish diners and visitors from abroad to support restaurants that are in turn supporting their suppliers. The Bord Bia "Just Ask!" Restaurant of the Year Award has been chosen from the year's winners selected for the Guide's monthly e-zine.
It's always especially gratifying to find a hotel restaurant going the extra mile with local sourcing and the chef who has led the kitchen team of this quirky castle hotel for well over a decade is exceptionally enthusiastic about the produce available to him in the area.
Local meats, game in season, seafood and organic vegetables from nearby Enniscoe House all find their way onto his admirably seasonal menus - which begin with warmly worded thanks to 'Respected Suppliers' and give details of the produce they now grow in their own polytunnel.
Most of the fish is supplied by Joe Garvin of Ballina; the salmon and sea trout that the area is world-famous for tops the bill, of course - and Stephen takes pride in hot-smoking and making gravlax in-house. No less than three local butchers are credited - Anthony Heffernan, Ballina; Michael Mc Hale, Castlebar; and Michael Carr, Ballina - and beef is dry-aged in-house, so it should come as no surprise that the chef's signature dish involves red meat: "The Drunken Bullock", consists of a large fillet of prime local Angus beef flambéed at the table - on a 15th century Spanish Armada conquistador sword, no less - in a generous measure of Jameson
Situated just outside Ballina amidst 1,000 acres of woodland and forestry, on the banks of the River Moy, Paul Doran's castle was the ancestral home of the Earl of Arran and, with a 16th century armoury, big open fires and massive chandeliers amo ...
more...
---
Show me all 2014 Award Winners