2011 Award Winners "JUST ASK" RESTAURANT OF THE YEAR AWARD 2011
Harry's Bar & Restaurant - Bridgend Co Donegal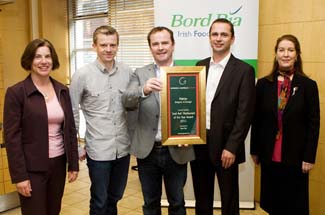 "Just Ask!" is a public awareness campaign that aims to encourage consumers when eating out to look for information on where the food (particularly meat) on their plate comes from, and encourages chefs to provide this information on their menus. The programme supports both large and smaller artisan suppliers, encouraging both Irish diners and visitors from abroad to support restaurants that are in turn supporting their suppliers.
"'Local Food From Local People' is the mantra at Harrys: 'We collect the best of local produce direct from the people who farm, grow and catch it!
Fish and shellfish come from the Greencastle boats. Local meats arrive whole and mature in our own dry-aging room. Unique local produce to shout about!'
Special prominence is given to 'The Greencastle Fishbox' and, of course, to the 'Famous Well Hung Donegal Steaks' that make this a serious destination for beef eaters from all over Ireland when visiting the north-west.
"All meats arrive whole and dry age in-house for up to 35 days; we use only select Donegal pasture-grazed beef."
Now how many establishments could claim that? But local produce showcased here is by no means restricted to seafood and beef – a 'Best of Local Produce' selection changes with the seasons and may include treats such as: wild Donegal venison; Inch Island pheasant; an Inishowen Lamb Plate (offering cuts not normally seen on menus, as well as the popular rump and rack); and – a special point of pride – Inishowen organic saddleback pork.
On the menu you can read the detailed lowdown on the products used, where they come from and the people who make them – it's magic stuff and the pride this team has in the foods of the area is palpable.
All of which means that customers won't find too many questions to 'Just Ask' at Harrys."
Located just 10 minutes drive north-west of Derry, this landmark bar and restaurant is run by brothers Donal and Kevin Doherty, and chef Derek Creagh, who all have a real passion for the food of the area and has earned a place as one of Ireland's top f ...
more...
---
Show me all 2011 Award Winners