2010 Award Winners JUST ASK RESTAURANT OF THE YEAR AWARD
Rathmullan House - Rathmullan County Donegal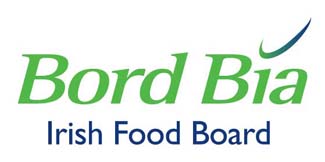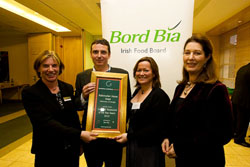 "Just Ask!" is a public awareness campaign that aims to encourage consumers when eating out to look for information on where the food (particularly meat) on their plate comes from, and encourages chefs to provide this information on their menus.
The programme supports both large and smaller artisan suppliers, encouraging both Irish diners and visitors from abroad to support restaurants that are in turn supporting their suppliers.
Good local food has always been central to the experience at this gracious nineteenth century house set in lovely gardens on the shores of Lough Swilly, in Co Donegal, run by William and Mark Wheeler, and their wives Yvonne and Mary.
William and Mark's parents Robin and Bob established an early reputation for the quality of their table, and the outstanding breakfast buffet alone was always worth travelling for; Bob still makes the marmalade in winter, and also batches of jam through the summer as fruits come into season.
And, thanks to the commitment of an exceptionally dedicated team, the food has never been better than now: head chef Ian Orr is a Derry man who returned from The River Café to work at Rathmullan, and his meticulously-sourced menus are based on the very best of local and artisan foods.
Working closely with organic gardener, Dennis Hawke, Ian makes best use of fresh produce from their beautiful and highly productive restored walled garden, in combination with carefully selected ingredients from the immediate area and beyond, much of it wild, free range, artisan and /or organic – and all documented throughout each menu for the information and interest of customers.

Fermanagh chicken, Fivemiletown cheese, Silverhill duckling from Monaghan, and 21 day aged ribeye of Kettyle Irish beef are all named on menus; pork is also from the trusted Irish supplier Kettyle, and fish is relatively local too of course – organic salmon comes from Clare Island, depending on availability fresh fish comes from various ports around the coast: halibut may come from Kilkeel in Co Down, for example, and scallops from Portavogie.

Also of particular note is the Children's Menu - a proper little person's version of the adult menu, with lots of choices and no concessions to 'popular' fare, this is education on a plate.
The invitation to 'Just Ask' is genuine here – they just love talking about good food.
Rathmullan House has a well deserved following for its unique blend of quality and informality, the fantastic location, family- and pet-friendliness, superb food and an innovative mindset - and it's in top form these days Set in lovely gardens on the ...
more...
---
Show me all 2010 Award Winners