2008 Award Winners NEWCOMER OF THE YEAR 2008
Inis Meáin Restaurant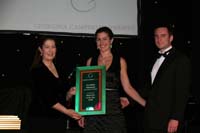 With about 150 new entries to the guide each year and a hugely promising long list to choose from, this is one of the most difficult awards to select. But this very special place kept coming up to the top of the list.
Ruairi de Blacam is a chef, and a native of Inis Meain - the middle of the Aran Islands group, it is just 3 miles across, and is the most tranquil and least visited. He and his wife, Marie-Th?rèse, who is from Cork, decided to create a business on the island that would allow them to live in this peaceful landscape of terraced limestone and traditional culture. Daily life here revolves around old traditions of farming, sport, and music, and they are true to this in creating a haven of fine food in a long, low cut-stone building that blends into the surrounding landscape.
The dining space and kitchen are almost one, giving a view of the open kitchen, or an amazing panoramic view of the island, sea and sky. Ruairi's food is simple and beautifully cooked, and the ingredients used are mainly sourced on the island: lobster and crab are caught by fishermen who use the local currachs; potatoes and vegetables grown in small fields are fertilized by seaweed from the shore: an irresistible newcomer, that will to help many more guests discover the peace and quiet of the island.
This wonderful place on the most tranquil and least visited of the Aran Islands group was our Newcomer of the Year in 2008, and it has since earned an international reputation as one of Ireland's most desirable destinations. Ruairi de Blacam is a na ...
more...
---
Show me all 2008 Award Winners