2012 Award Winners PET FRIENDLY HOTEL OF THE YEAR 2012
Hotel Dunloe Castle - Killarney, Co Kerry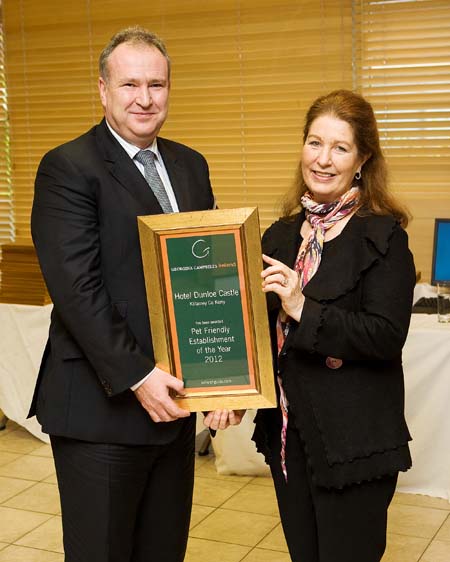 Innovation is the name of the game at the moment, with everyone trying to find new ways to attract business. There are many interesting ideas coming up but, as a country, we're missing a trick when it comes to pet friendliness. We lag way behind our UK neighbours in this – a market which we claim to be trying every which way to win over; if you google an area in Britain looking for somewhere to stay, chances are that pet friendly options will pop straight up. In my native Cornwall, contented dogs bring their owners into the pub after country walks – and the county's beaches are officially listed online as dog-friendly or (equally importantly) dog-free. But many establishments here have quietly welcomed dogs for years, and maybe we're seeing the light as it's been very noticeable this year that a growing number are now taking up the opportunities in this market – including, interestingly, some 5* star hotels. And why not, if you want to persuade holidaymakers to choose to by-pass the airport...
An excellent example is this luxurious Kerry hotel where, having developed very family friendly accommodation and activities in recent years, they have now turned their attention to the family pet.
For a nominal charge per night, this newly pet-friendly hotel offers a choice of luxurious kennels or a dog friendly guest room where you will find a food and water bowl with floor mat, special pet treats and pet beds and (a very practical idea) a doggy throw, to cover the sofa with, should that be your pet's preferred sleeping place!"
With 20 acres of grounds and gardens (clean-up bags provided),
Hotel Dunloe Castle
is emphatically a five star destination for dogs – the only trouble is likely to be persuading them to hop in the car when it's time to leave.
Reopening 15th April 2015 Sister hotel to the Europe Hotel & Resort, Fossa and Ard na Sidhe Country House, Caragh Lake (see entries), this beautifully located hotel is mainly modern (although the original castle is part of the development) an ...
more...
---
Show me all 2012 Award Winners