2012 Award Winners PUB OF THE YEAR 2012
Mary Anns Bar & Restaurant - Castletownshend, Co Cork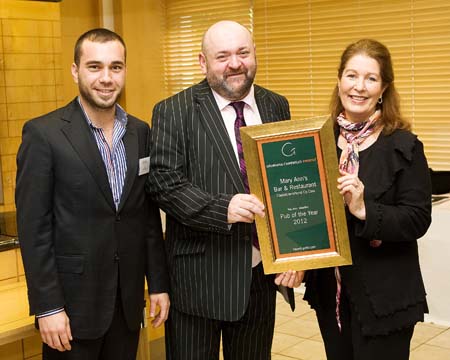 The decision to ban the term 'gastropub' generated acres of publicity for a UK food guide a few weeks ago – interesting, we thought, as we've never allowed it (unless it's the actual name of a business, over which we have no control); it's unpleasant and over-used – and, like the ubiquitous 'eatery', is not in the Guide's vocabulary.
But we're all in favour of pubs that do great food, of course – and many of our best had been doing just this for many years before the unfortunate term 'gastropub' saw the light of day.
It's not all about the food of course – character, friendliness, comfort, a sense of community, all those things are part of what makes a great pub – but good food is the main focus for all of our Star Pubs, including our Pub of the Year, which (like the owners themselves) simply oozes with character and warmth, and the food is traditional Irish seafood cooking at its best: only gorgeous!
Mary Ann's Bar & Restaurant
is a must-visit destination for everyone heading to the South-West, whether by land or sea…
The pub is as old as it looks, going back to 1846, and has been in the energetic and hospitable ownership of Fergus and Patricia O'Mahony since 1988; they have loved it and maintained it well (it is not unusual to find Fergus up a ladder with a ...
more...
---
Show me all 2012 Award Winners