2007 Award Winners RESTAURANT OF THE YEAR 2007
MacNean House & Bistro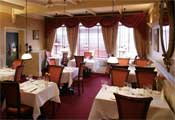 As all Ireland now knows, some of the best cooking in the country is to be found in the little border town of Blacklion, Co Cavan. I'll never forget my first visit, early in 1993 - the restaurant had been nominated for the Sunday Press/ Mouton Cadet Sunday Lunch Awards by a reader – a catering lecturer called, coincidentally, Marion Campbell - who described it as a well-kept secret and predicted that "it won't be long until someone from the media finds this hideaway and customers from all over Ireland will be beating a path to its door." Well, how right she was - and how fortunate for me, to be that 'someone from the media'.
And the rest, as they say is history: Neven Maguire was working with his mother, Vera, in the kitchen of MacNean Bistro at that time and his father, the late Joe Maguire, ran front of house Ever since then it's been a source of special pleasure for me to see how the restaurant has progressed and, especially, how Neven has taken up the baton and continues to run it very much as a small family business regardless of its starry status.
Despite his popularity as a TV chef, author of best-selling cookbooks and celebrity supporter of food events all over Ireland, Neven shows no sign of being distracted from the restaurant, and his cooking is better than ever: his exact, perfectly judged food, that makes the most of meticulously sourced ingredients from the local and artisan producers he so strongly advocates, is an experience to treasure.
The restaurant is not large but it has recently been refurbished, and will have a small bar for the 2007 season, all creating the right ambience for enjoying Neven's exquisite food to the full. Meals here are interspersed with all the treats that are part of the dining experience in the grandest restaurants - pre-starters, pre-desserts, superb petits fours – the works. And this wonderful food is still served with charm by family members including Neven's fiancée, Imelda - and it is exceptionally good value too, especially for Sunday lunch which combines elements of the traditional meal with more typical choices from other menus.
A real love of good food combined with exceptional creativity and skill, generosity and hospitality mark this restaurant out as special -
MacNean Bistro is nothing short of a national treasure.
The prospect of a meal at Neven and Amelda Maguire's renowned County Cavan establishment has long attracted devotees from all over Ireland, and beyond - and its development, from a modest restaurant with rooms to a spacious place of sumptuous comfort, ...
more...
---
Show me all 2007 Award Winners