2007 Award Winners SEAFOOD BAR OF THE YEAR 2007
Aherne's Seafood Bar & Restaurant, Youghal, Co Cork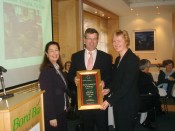 Now in its third generation of family ownership, Aherne's has a great reputation on several counts, including the FitzGibbon family's hospitality and their luxurious accommodation. But it is for good food - and, especially, the ultra-fresh seafood that comes straight from the fishing boats in Youghal harbour - that Aherne's is best known.
While John FitzGibbon supervises the front of house, his brother David reigns over a busy kitchen, and their wives (of course) keep a calm eye on everything. The restaurant is renowned for its seafood - specialities like pan-fried scallops with spinach, bacon & cream, or fresh crab salad make memorable starters, for example, and who could resist a main course hot buttered Youghal Bay lobster? These are, in a sense, simple dishes yet they have a natural glamour too.
But it is perhaps the quality and range of the bar food which is most unusual: the style tends pleasingly towards simplicity - oysters, chowder, Yawl Bay smoked salmon and oysters make for great snacks or starters (all served with the renowned moist dark brown yeast bread), and you'll find at least half a dozen delicious hot seafood main course dishes like baked cod wrapped in bacon (served with salad, salsa & sauté potatoes) and gorgeous prawns in garlic butter - its sheer freshness tells the story.
And, whereas lack of consistency in standards is a major problem in Ireland's hospitality industry as a whole, Aherne's Seafood Bar stands out as a role model of excellence - during the two or three decades that we've been dropping into the bar for a bite at all sorts of hours, the standards of both food and service have never been less than outstanding:
it is well worth planning a journey around a bar meal at Aherne's
.
Sponsored by Bord Iascaigh Mhara
Now in its third generation of family ownership, Aherne's is outstanding for the warmth of the FitzGibbon family's hospitality and their enormous enthusiasm for the business which, since 1993, has included some fine accommodation. But it is ...
more...
---
Show me all 2007 Award Winners