2006 Award Winners SEAFOOD RESTAURANT OF THE YEAR 2006
King Sitric Fish Restaurant & Accommodation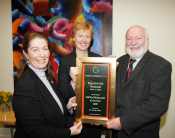 This striking harbourside establishment is renowned for its fish and seafood cooking, and is one of Dublin's longest established fine dining restaurants. It takes full advantage of the sea and harbour views, which allow chef-patron Aidan MacManus - who is also
President of the Restaurants Association of Ireland
- to keep an eye on his lobster pots in Balscadden Bay on one side and the fishing boats coming into harbour on the other. Impressive menus state a commitment to local producers - and give a listing of Irish fish in no less than six languages - and specialities worth travelling for include less well known seafood, such as locally fished razor shell clams, that might share the bill with luxurious classics like lobster and black sole. And you will also find one of the country's finest wine lists here (the King Sitric is a previous winner of the Guide's Wine Award), and even a temperature controlled wine cellar on the ground floor, where tastings are held. Although renowned as a fine dining restaurant, a real effort is made to keep prices accessible where possible - lunch is especially good value, also their weekday Special Value Menu.
Café / Restaurant / Restaurant with Rooms
Named after an 11th century Norse King of Dublin who had close links with Howth, Aidan and Joan MacManus' striking harbourside establishment is one of Dublin's longest established fine dining restaurants (they celebrated 40 years in business in 2011). ...
more...
---
Show me all 2006 Award Winners