2014 Award Winners SEAFOOD RESTAURANT OF THE YEAR 2014 SPONSORED BY BIM
Eithna's by the Sea, Mullaghmore, Co Sligo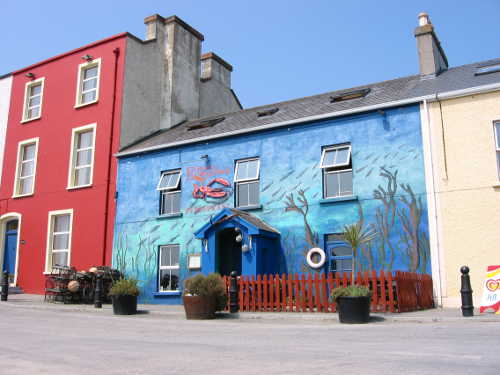 Although we eat less fish at home than might be expected for an island nation, everybody – whether living in Ireland or just visiting - seems to love seafood when eating out, so it's an increasingly vibrant sector of the restaurant business.
Hungry diners revisiting Mullaghmore this summer were delighted to find that a familiar harbourside restaurant had been painted up - big and bold and blue and teeming with life, there was no doubt that a once favourite destination for seafood lovers had re-opened.
The popular chef behind this terrific restaurant had gone 'back to school' to complete a thesis on Seaweed As An Artisan Food Product, a fascinating subject which has not only inspired many deliciously practical applications on the menu here (a seaweed tasting plate is in the making for next season) but also a successful product range of pestos, made with local and seasonal land and sea vegetables, which are used in the kitchen - in breads and desserts, for example, and as accompaniments - and on sale.
And what a delightful place this is to enjoy the best of local seafood, cooked simply and skilfully - lobster is a speciality, while more affordable choices included grilled mackerel with seaweed pesto. Everything is delicious, including the freshly baked breads, superb organic leaves and beautiful salad dressing.
A favourite destination for seafood lovers, Eithna O'Sullivan's atmospheric harbourside seafood restaurant teems with life throughout the summer and her food is better than ever. And you certainly can't miss it, as it's there big and ...
more...
---
Show me all 2014 Award Winners