2011 Award Winners B&B OF THE YEAR 2011
Carlingford House - Carlingford, Co Louth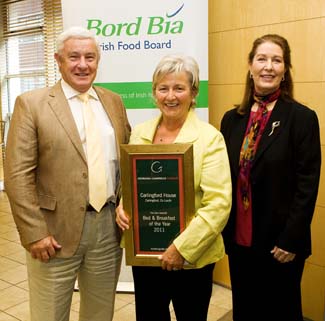 "The Guide has a long memory and, when (generously) informed by one of our recommended establishments nearby that this house was re-opening after over a decade's use as a private family home, we knew it would be cause for celebration - even after visiting many hundreds of others over the years, you never forget a beautiful old house with warm hosts who offer genuine hospitality and good food.
So, following our initial visits, a 'mystery shopper' was dispatched to reveal all.
And we were delighted to be told that proprietors Peter and Irene Finegan haven't lost their touch: all was as remembered, only better, as their entire house was completely renovated before they re-opened and it now offers guests a stylish mix of old and new.
Details especially liked include a garden to relax in, very fast free wifi, and the chocolate/ biscuit treats in the room – and, above all, the hosts themselves.
A great destination for discerning visitors to the charming medieval village of Carlingford."
Discerning visitors to Carlingford will love Peter and Irene Finegan's fine 19th century house in the heart of this charming medieval village. Once the local doctor's house, it has been in the Finegan family for three generations and, foll ...
more...
---
Show me all 2011 Award Winners