Bacon Chops with Apple & Cider Sauce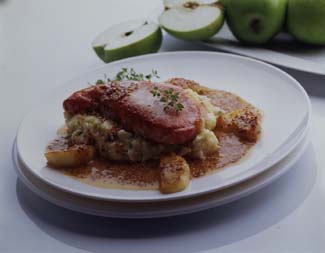 Mention Fermanagh and the chances are that the response will be 'Fermanagh black bacon' – in a county famous for its pork, this special product made (and trade-marked) by Enniskillen butcher Pat O'Doherty has earned its place in the foodie hall of fame.

The O'Dohertys keep their own herd of free range Saddleback pigs on Inishcorkish Island on Upper Lough Erne, and the product is a great credit to both the standard of meat and the artisans who make it into unique dry-cured Fermanagh black bacon.

Visits to the island can be arranged by appointment, and the shop in Enniskillen is a must-visit too - a model Northern Ireland butchers.

Pork, apples and cider are traditional companions and make especially good partners for some of the great products of the region, including Armagh apples.

Pork chops could be used instead of the bacon chops suggested; either way it's the kind of meal you don't tire of – good, simple comfort food.

Serves 4

1 tbsp oil 4 bacon or pork chops
Knob of butter
1-2 cooking apples, preferably Bramleys,
sliced 1-2 cloves garlic, chopped
1 tsp sugar
125ml / 1/4 pt dry cider
1 tsp cider vinegar
1 tbsp Irish wholegrain mustard
A few sprigs of thyme
Salt and freshly ground black pepper
Heat a frying pan with the oil.

Cook the chops for 10-15 minutes, browning well on both sides. Remove from the pan and keep warm.

Now add the butter and the apples to the pan Cook until the slices just begin to brown.

Add the garlic and sugar. Cook for another minute.

Stir in the cider, vinegar, mustard and thyme, bring to the boil and then simmer for a few minutes to reduce the liquid.

Taste for seasoning. Serve the chops with the sauce - and lots of creamy mash.