Beef and Guinness Stew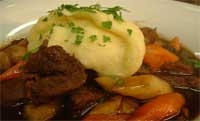 This recipe features in Irish Country House Cooking (Epicure Press €25). It is the Wineport Lodge take on traditional Beef & Guinness casserole – the prune juice and orange are not essential, but they add an extra richness to the flavour.

If you like the idea of cooking with rare breed meat such as Long Horn and your butcher doesn't stock it, order online from www.simplysourced.net; their slow cooking Long Horn beef boxes begin at €30.

Serves 6-8

21/4 lb/1kg stewing beef eg shin, flank or rib, trimmed & cut into 1 in/2.5cm cubes
1 oz/25g flour
oil & butter, as required
1 onion, peeled & sliced
2 carrots, sliced thickly, abut ½"/1cm
½ celeriac or 3 or 4 stalks celery, trimmed & cubed
1 large or 2 small parsnips, peeled & cubed
Bouquet garni or mixed herbs & seasoning, as required
1 pint/600ml approx Guinness, or beef stock
1/4 bottle prune juice (optional)
1/2 orange, left whole (optional)
Salt & freshly ground black pepper
Chopped parsley to garnish.

Preheat the oven at 150'C/300'F/gas mark 2.

Season the beef and toss in flour to coat.

Heat a little oil and butter in a heavy pan and brown the meat in batches, then transfer to a casserole.

Add the onions and other vegetables and sweat gently for a few minutes in the same pan; transfer to the casserole.

Add any remaining flour to the pan, stir to absorb whatever fat is left, then cook for a minute before stirring in the Guinness or stock, and prune juice if using. (If you have some spare Guinness left over, you could soak a few prunes in it to serve as an accompaniment, if liked.)

Add liquids to the casserole (enough to cover the main ingredients), also the bouquet garni or mixed herbs and the orange; season, stir to mix well, cover and cook in the oven for about 2 hours, until the beef is tender.

Remove the orange and bouquet garni, and check the seasoning.

Serve with mashed potatoes, a couple of prunes soaked in Guinness (optional) and chopped parsley.