Blueberry Crisp Rice Cobbler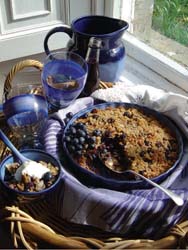 Prannie Rhatigan's cookbook, 'The Irish Seaweed Kitchen' (see August Cookery Feature) includes some lovely dessert recipes. Prannie and her family enjoy picking blueberries at Derryvilla Blueberry Farm (www.derryvillablueberries.com) and they are in season now, so the timing is perfect for making this cobbler.

Blueberries are 'superfoods', best eaten uncooked, either fresh or in smoothies from frozen, but they're also delicious cooked. Prannie says this dish also works well using rice milk and spelt flour; similarly, oat flakes could be used instead of rice flakes.

Seaweed Used: Nori

Serves: 6

2 tablespoons nori, flaked or finely ground, (there is a guide on Prannie's bookmark)
125g (4½oz) rice flakes (from health stores/shops selling Asian foods)
225ml (8fl oz) milk or rice milk
55g (2oz) butter, softened
80g (2¾oz) plain flour
50g (1¾oz) walnuts, chopped roughly
25g (1oz) flaked almonds
40g (1½oz) ground almonds
½ teaspoon arrowroot
75g (2½oz) brown sugar
2 teaspoons vanilla extract
¼ teaspoon allspice
1 tablespoon lemon juice
250g (9oz) blueberries

1 Soak the rice flakes in a bowl in the milk or rice milk for about 30 minutes, until softened.

2 Preheat the oven to 190°C/375°F/Gas 5, and grease a 25-30cm (10"-12") flan dish.

3 Rub the butter into the flour until the mixture resembles coarse breadcrumbs. Stir in walnuts, ground and flaked almonds, arrowroot and sugar and mix well.

4 Stir in the rice flakes, then add vanilla extract, allspice, nori and lemon juice and mix gently together.

5 Spoon half the mixture into the flan dish. Scatter the blueberries on top and spoon over the rest of the mixture. This keeps the blueberries from drying out during baking.

6 Bake in the oven for 20 minutes or until golden.
7 Serve with natural yogurt, custard or cream and fresh blueberries.