Brady Family Ham and Potato Gratin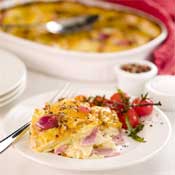 150g of Brady Family Ham (or other premium ham if Brady Family is unavailable)
1 Kg of potatoes or 3 large potatoes
2 garlic cloves
500 ml of cream
50-75 g of mixed red and white cheese grated.
Green Salad

1. In a shallow baking dish, layer thinly sliced potatoes with chopped Brady Family cooked ham.

2. Add 500 ml of seasoned single cream and a sprinkling of finely chopped garlic and black pepper as you go.

3. Dot with a little butter, top with grated cheese and bake in a moderate oven for 60-70 minutes or so, until the potatoes are tender.

4. Serve with a green salad.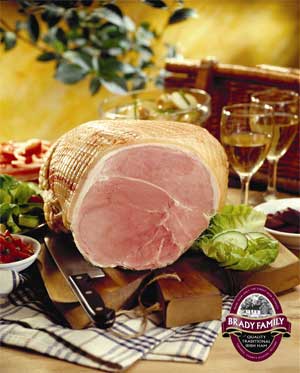 Established in 1978 and based in Co. Kildare, Brady Family are specialists in the production of premium quality, hand-crafted traditional Irish hams which look and taste the way hams used to. Brady Family Ham's extensive range includes Traditional Home Cooked Ham, Glazed Ham, Crumbed Ham, and Oak Smoked Ham, all on or off the bone. And, for the time pressured consumer, Brady Family ham is also available pre –packed form.

The remarkable achievement is that Brady Family hams are 100% sourced from Bord Bia approved Irish suppliers and crafted by hand (not machine!) and are available nationwide in Super Valu, Centra, Dunnes Stores, Superquinn, Tesco, all symbol groups and leading independent delis

Very few companies are staying true to the traditional methods of producing ham as was done in farmhouses up and down the country in the past. Brady Family is proud to retain many of these old skills and cooking methods and this results in a product when compared to its main competitors that it is 100% Irish and unprocessed with no added water.

For more information
click here
for their website