Castlefarm Home-made Organic Angus Beef Burgers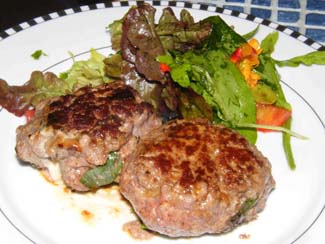 Co Kildare is real beef country and at Peter and Jenny Young's organic farm near Athy, the Castlefarm Aberdeen Angus heifers have spent the summer fattening on a diet of organic grass and clover and are now ready to become autumn beef.

On a weekly basis during September and October, Jenny Young brings an animal to their local abattoir. "Our beef is hung for 21 days to maximize on flavour and tenderness. Each animal is then divided into freezer boxes and customers share the animal - each box contains a bit of everything; some steaks, some roasts, stewing beef and mince. Normally each beef box contains about 6 bags of mince, so I give out a beef burger recipe.

This is such a simple recipe but makes the point that if you use good quality meat, home-made burgers need very little else. The important thing is to use fresh, good quality mince. Homemade burgers are cheap, nutritious and so easy to make."

Serves 4:

700 g/ 1½ lb of Castlefarm organic Angus mince
2 Castleruddery organic scallions finely chopped (use the greens too)
1 level teaspoon Brooklodge Organic Spice Rub (like many herb mixes this rub is multifunctional).
A dash of salt and pepper
8 x ½ inch pieces of blue cheese (Jenny uses use Wicklow Blue or Bellingham Blue)

1. Use your hands to mix the mince, scallions and seasoning together.

2. Roughly divide the mixture into 8 and shape into rounds.

3. Stuff a piece of cheese into the middle of each burger, making sure you shape the mince back over the hole that the cheese entered, so that the cheese will not leak out.

4. Flatten the burgers slightly with the palm of your hand.

5. Fry or grill for about 5 minutes on each side or until cooked. Served with seasonal vegetable and/or salad.