Chicken Breast with Fennel and Rocket Salad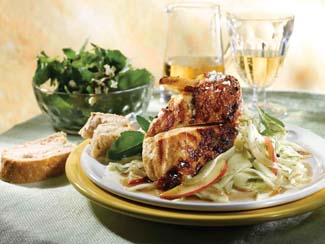 Simple and special, this takes only 30 minutes to cook, and the salad can be prepared ahead. Its simplicity makes this an ideal dish for cooking free range chicken, allowing the flavour and texture to speak for itself.

Serves 4

4 free range part-boned chicken breasts, skin on
Juice of 1 lemon
1 tbsp olive oil
Salt and black pepper
Fennel Salad:
2 fennel bulbs, sliced thinly as possible
2 tbsp olive oil
Juice of 1 lemon
1 tbsp good quality mustard
Handful of rocket leaves per person

To finish the dish: Drizzle of olive oil, balsamic vinegar and black pepper

Preheat a moderate oven, Gas Mark 4, 180°C, 350°F

To Cook:

An hour or two ahead, if possible, place the chicken breasts in a shallow dish. Pour over the lemon juice, olive oil and seasoning.

Prepare the salad – put the sliced fennel in a large bowl, in another small bowl mix the olive oil, lemon juice and mustard together, taste for seasoning. Mix the fennel and dressing together – set aside.

Seal the chicken breasts on a hot pan until well browned. Then finish cooking in the oven for 10-15 minutes.

To serve:

Slice the chicken, serve with a mound of the salad and the rocket leaves on top. Drizzle with a little olive oil and balsamic vinegar and a little black pepper.