Chicory stuffed with blue cheese Ojas de chicoria con queso de cabrales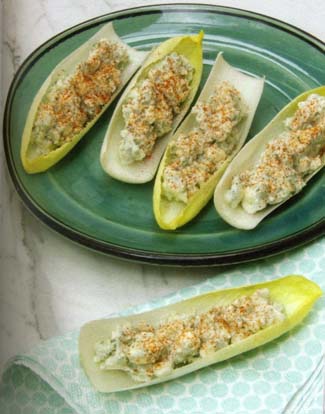 From Elizabeth Luard's TAPAS, Classic Small Dishes from Spain (Grub Street, hardback £15.99)

"This is a very common tapa in the north of Spain, where the French influence is strong. The boat-shaped leaves of endive (also known as chicory or white-leaf) make perfect finger-food. The stuffing, while other blue-veins will do, is usually the pungent Cabrales, a blue-vein made in Asturias in much the same way as Roquefort."

MAKES 8 TAPA MOUTHFULS / SERVES 2 AS A STARTER

8 boat-shaped chicory (endive) leaves
125 g/4 oz blue-veined cheese (Cabrales for preference)
2 tablespoons soured cream
1 teaspoon mild or hot pimenton (smoked for preference).

Wipe the chicory leaves and arrange them on a plate. Mash the cheese with the soured cream.

Stuff the leaves with the cheese mixture. Finish with a sprinkle of pimenton and a cocktail stick for easy handling.