Chocolate Hazelnut Cake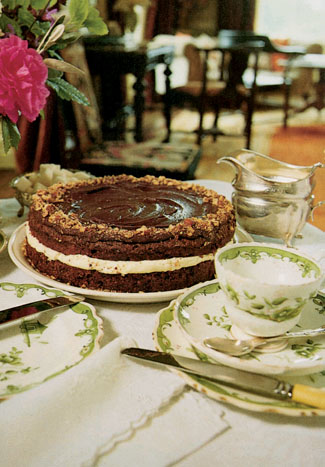 From The Best of Irish Breads & Baking (Epicure Press paperback, €15)

This scrumptious cake - as made by Susan Kellett at the wonderful Enniscoe House, near Ballina, Co Mayo - is more of a gateau than a cake and well suited to serving with a cake fork with coffee, or as a dessert.

Try it, perhaps, as an alternative to the traditional simnel cake for Easter, it will go down well with those who aren't keen on fruit cakes.

8 oz/225g unsalted butter
8 oz/225g soft brown sugar
4 eggs, separated
4 oz/100g self-raising flour
Pinch of salt
4 oz/100g ground hazelnuts
8 oz/225g plain chocolate, grated
To finish:
1/2 pint/300 ml double cream
2 oz/50g chopped hazelnuts
6 oz/175g plain chocolate
4 oz/100g icing sugar.

Grease a 9"/23 cm deep cake tin and line with baking parchment. Preheat a very moderate oven, 325'F/170'C/Gas mark 3.

Beat the butter and sugar together until light and fluffy. Beat in the egg yolks slowly, adding a little of the sifted flour and salt with each addition. Fold in the remaining flour, then the hazelnuts and grated chocolate. Mix well.

Beat the egg whites until stiff, fold into the cake mixture and spoon into the prepared cake tin. Level the top and bake in the preheated oven for about an hour. Test with a skewer, which will come out clean when the cake is cooked. Remove from the oven and leave to cool in the tin.

When cold, turn the cake out of the tin, peel off the baking parchment and slice the cake in half.

To finish: Whip the cream until firm, spread over one half of the cake and sprinkle with half of the chopped nuts. Place the other half of the cake on top. Put the chocolate, icing sugar and 4 tablespoons of water into a bowl and stand in a pan of simmering water. Heat gently until the chocolate has melted. Keep stirring with a wooden spoon. Spread this icing over the top of the cake, sprinkle the remaining nuts on top and serve as soon as possible.