Colcannon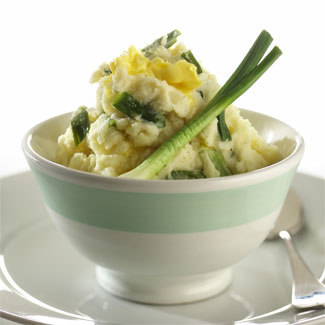 Hallowe'en has more traditional festive dishes associated with it than any other date in the Irish calendar – and Colcannon remains one of the most popular. Traditionally, at Hallowe'en, it should have a ring hidden in it – predicting marriage in the coming year for whoever finds it.

The familiar old rhyme almost gives the recipe:

Did you ever eat Colcannon, made from lovely pickled cream??
With the greens and scallions mingled like a picture in a dream.?
Did you ever make a hole on top to hold the melting flake
Of the creamy, flavoured butter that your mother used to make

Did you ever eat and eat, afraid
You'd let the ring go past,
And like some old married 'sprissman'
Would get it at the last?

Colcannon has turned up on many a fancy restaurant menu recently, as a side dish, and it makes a lovely wholesome family dish served simply with really good sausages – especially at Hallowe'en.

Serves 4.

1kg /2 lb potatoes, freshly cooked and mashed
250g/8 oz kale or curly cabbage, just cooked, drained and finely chopped,
OR a bunch of scallions, (spring onions) finely chopped
Milk, butter, salt and black pepper.

Mix the mashed potatoes and chopped kale/cabbage/scallions together.
Heat some milk with a generous knob of butter. Beat it into the potato mixture until smooth and creamy. Season well.