Double Crust Apple Pie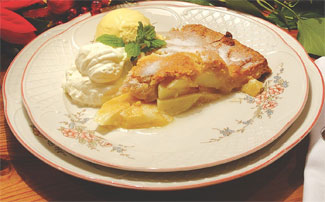 Everyone's favourite comfort food to round off an autumn meal - this version of the traditional apple plate pie is from Irish Country House Cooking, The Blue Book Recipe Collection.

Serves 8

Pastry:

6oz/175g caster sugar
12oz/350g butter, at room temperature
1lb/450g plain flour

Filling:

6oz/175g granulated sugar, approx.
12oz/350g approx. peeled, cored & sliced Irish Bramley apples (prepared weight)

Cream the butter and sugar until soft, then gradually blend in the flour and mix everything together to make a firm but pliable pastry, adding a light sprinkling of very cold water if necessary to bind the dough.

Knead lightly into a smooth ball, wrap and eave in the fridge to rest for half an hour.

Preheat a fairly hot oven 400°F / 200°C / gas mark 6.

Roll out half of the pastry on a floured board to about ¼ in / ½ cm thickness and use to line a pie plate or ovenproof dinner plate of about 9 ½ in/ 24cm diameter.

Slice off the excess from around the edge.

Put the sliced apple in the centre of the plate in a heap about 4 in/10 cm high, and leave about 1 in/ 3 cm around the edge of the plate, then sprinkle the sugar over the top of the apple.

Dampen the pastry all around the edge. Roll out the remaining pastry, slightly thicker than before, and completely cover the apple and the plate.

Gently shape the crust around the apple to make a 1in/3cm crust around the edge of the plate.

Trim off the excess pastry and seal the edge of the pie by gently pressing the pastry down with your thumb at about ½ in/1cm intervals.

Trim the excess pastry once more and prick the top of the pie several times with a knife to allow steam to escape.

Bake the pie in the preheated oven for 30-45 minutes, or until the pastry is a nice golden straw colour.

Serve warm, with chilled pouring cream, whipped cream or vanilla ice cream.