Easy Mung Lentil Curry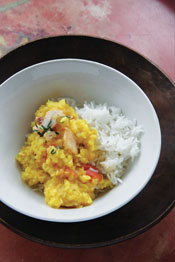 This Easy Mung Lentil Curry from Anjum's New Indian (Quadrille paperback, €19.50 is a tasty vegetarian dish that should rest the system and is often served in the homes of Sindhis, in the northern region of Sindh (now part of Pakistan); Anjum says this "Simple but utterly delicious lentil curry… appeals to all".

Serves 2-3

125g yellow split mung lentil, washed and soaked for 1 hour
7g fresh ginger, peeled and chopped
1-2 green chillis, deseeded and chopped
4 tsp turmeric salt, to taste
1 large tomato, roughly chopped
2 tbsp oil
1 tsp cumin seeds
6 curry leaves, shredded
3 large cloves of garlic, peeled and roughly sliced
handful of fresh coriander, chopped

Place the drained lentils, ginger, chillis, turmeric, salt, tomato and 750ml water in a large saucepan. Bring to the boil, then turn the heat down and simmer for 30-40 minutes or until the lentils have softened and the water has turned yellow and slightly creamy from some of the lentils breaking down.

The curry will thicken further as it cools, so if you are serving the reheated curry later, add an extra splash of boiled water to the pot.

Heat the oil in a small saucepan. Add the cumin seeds and, once they release their aroma, stir in the curry leaves and garlic. When the garlic starts to brown at the edges, pour it all into the lentils along with the chopped coriander and serve. It is a loose curry, so serve with some plain basmati rice on the side.

Incidentally, it can be difficult to have all the right fresh herbs and spices in stock when you're in the mood for ethnic dishes; a new range of 'Fresh Blends' herbs and spices, grown organically in Australia for the Gourmet Garden (www.gourmetgarden.com) range and sold in a handy 115-120g tube, could be the answer.

Although the carbon footprint for European users must be awesome, they're not wasteful in use and ideal for busy cooks who don't want to lose out on flavour - the tubes are stored in the fridge and keep their fresh taste for months, and can also be used straight from the freezer.

The new range reflects the world's four most popular flavours - Indian, Thai, Moroccan and Mediterranean – and there are nine individual herb and spice blends available in the core range: Basil, Hot Chilli, Coriander, Chives, Garlic, Ginger, Italian Herbs, Lemon Grass, and Parsley.