FILLET STEAK - St Clerans' Grilled Fillet Steak with Melted Cashel Blue Cheese on a Herb Rosti with Shallots, Black Pepper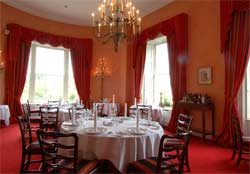 Although it may still seem distinctly wintry in February, spring really is on the way and short breaks begin to look very tempting. Ireland has no shortage of choice when it comes to finding the perfect place for that special treat or a romantic getaway - including film director John Huston's former home St Clerans Country House in East Galway, a luxurious retreat that is renowned for Japanese chef 'Kuma' Hishashi Kumagai's refined cooking.

Although many dishes at St Clerans are Japanese-influenced Kuma knows that 'a good steak' remains the nation's favourite food and his upscale version of fillet steak with blue cheese would do very nicely for any special meal, whether cooked by the master at St Cleran's, or by yourself at home.

This is one of the recipes given in the new revised and extended edition of Irish Country House Cooking, The Blue Book Recipe Collection (€25, incl P&P).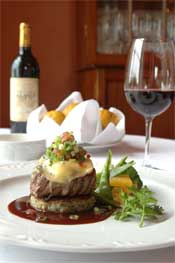 Serves 4

4 x 6oz/170g centre cut beef fillet (tenderloin)
4 x 1½oz /40g slices of Cashel Blue cheese
1 tbsp/ 1 1/4 US tablespoons finely chopped shallots (or onion)
7fl oz /200ml/ 7/8 cup red wine
2 tbsp / 21/2 US tablespoons water
2oz /50g/ ½ stick cubed & chilled butter
1 medium size tomato, peeled, de-seeded & finely diced
2 tbsp/ 21/2 US tablespoons grape seed oil
Salt & freshly ground black pepper
Herbed Rösti:
3-4 tbsp/ 33/4-4 US tablespoons fat (oil and/or butter)
4 medium size potatoes, peeled and coarsely grated
1 small onion, peeled and finely chopped
2 tbsp/ 21/2 US tablespoons chopped fresh mixed herbs - rosemary, oregano, thyme, parsley etc.
Salt, freshly ground nutmeg & black pepper

First make the rösti:

Heat the oil or butter in a non-stick frying pan. Add the potatoes, onion and herbs, then sprinkle with salt, pepper and a little nutmeg and stir well to mix them in with the fat.

Cover and fry for 20-30 minutes over medium heat, turning regularly. Then uncover the pan, turn the heat up and fry for a further 20 minutes. Towards the end of this time form the mixture into a cake shape (or four individual ones). Do not stir.

Meanwhile, prepare the steaks and the sauce:

Season the steaks with salt and pepper and set aside for a few minutes.

Heat a heavy ridged grill-pan over high heat, sprinkle the steak with grape seed oil and pan-grill to your liking. Keep warm.

Add water to the grill pan and scrape to deglaze the juices, then transfer to a saucepan. Over high heat, add the red wine and shallots and bring to the boil, then reduce the heat and simmer, uncovered, to reduce the sauce by half.

Add the chilled cubed butter piece by piece, whisking gently, to make a buttery sauce. Season to taste.

Pass through a fine sieve, then add the diced tomatoes; keep warm until required.

Just before serving, put the Cashel Blue cheese on top of the steak and melt under the grill (salamander).

To serve:

Divide the herbed rösti between four heated plates, place the steaks on top of the rösti and drizzle the sauce around the steak. Garnish with fresh herbs and serve.