Fluffy American Pancakes with Mixed Berries & Yoghurt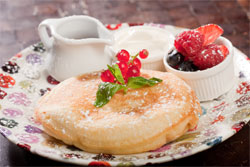 These American pancakes are a bit like a light dropped scone or 'pikelet'. The recipe is from a menu contributed to Truly Tasty by Peter Merrigan, head chef at Avoca Rathcoole, in County Dublin, who says, "Remember cooking is all about enjoying yourself. Take your time, make mistakes – you can start again, but always use good ingredients."

Serves 6

115g (4oz) plain flour
25g (1oz) cornflour
½ level tbsp bread soda
A tiny pinch of ground cinnamon
25g (1oz) caster sugar
200ml (7fl oz) milk
1 egg
¼ vanilla pod, seeds scraped out
Butter, for greasing
100g (3½ oz) mixed berries, such as raspberries, strawberries and blueberries
25ml (1fl oz) maple syrup
50ml (2fl oz) Greek-style yoghurt
Icing sugar, to decorate

To make the pancakes, sift the flour, cornflour, bread soda and ground cinnamon into a bowl, then add in the caster sugar and mix well. In a separate bowl, whisk the milk, eggs and vanilla seeds together until well mixed.

Make a well in the centre of the dry ingredients and pour the blended milk mixture into the well.

Whisk the liquid, bringing the dry ingredients into the liquid as you go. Whisk until the batter is silky smooth and all the dry ingredients have been incorporated. Cover the bowl and leave the mixture to rest for one hour.

To make the pancakes, heat a large frying pan on a moderate heat, add a knob of butter and let it melt. Add enough batter to the pan to form a circle about 7.5cm (5in) in diameter.

The pancake might look a little bit thick, but let it cook on a low heat until bubbles start forming on top of the mixture.

Then turn it and cook for a further 3 minutes on the other side. You should fit 2-3 pancakes in a large frying pan. You will need to make 6 in total.

If you like your berries warm, heat them up gently in a small pot with a little bit of maple syrup, or else just serve them plain.

Serve each pancake with berries and yoghurt on the side. Pour over a little maple syrup and decorate with a sprinkling of icing sugar.