Fried Squid with Lime and Chilli Dressing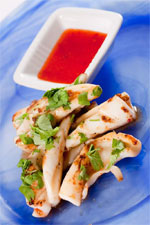 This colourful Asian-inspired dish in Truly Tasty was adapted from a similar dish in my own book 'From Tide To Table' (out of print), and is very quick to prepare. It is important to cook the squid thoroughly for food safety, however be careful not to cook it for too long as it can become tough and chewy.

Serves 4

300g (10½oz) prepared squid pouches (allow to thaw completely if frozen)
1⁄2 level tsp (1.5g) Chinese five-spice powder (available in all good delis, Asian shops and supermarkets)
A pinch (1⁄4 level tsp) freshly ground black pepper
2 tsp sunflower oil
4 tbsp sweet chilli sauce (available in all good delis, Asian shops and supermarkets)
Juice of 2 limes
20g (3⁄4oz) fresh coriander leaves, roughly chopped

Cut along one side of each squid pouch and open it out flat. Score the inner side into a diamond pattern with the tip of a small, sharp knife, then cut the squid into triangles that measure approximately 4cm (11⁄2 in).

Separate the tentacles, if large. Leave to drain on kitchen paper to remove any excess liquid.

Tip the squid into a large zip-lock bag and add the Chinese five spice and pepper, then shake well to coat the squid evenly.

Heat the oil in a wok or large frying pan until piping hot and smoking. Add the thinly sliced spiced squid and stir-fry for 30–40 seconds until thoroughly cooked through.

Remove the wok from the heat. Drizzle over the sweet chilli sauce, and lime juice and scatter most of the coriander on top. Quickly toss together until the squid is nicely glazed.

Arrange the squid on warmed plates and drizzle over any remaining dressing from the pan. Sprinkle with the remaining coriander and serve immediately.