Havin' a Heatwave - Recipe for Roulade of Sole Fillets, Green Mango and Lime Salsa - Recipe for Carnival Chicken - Basmati Rice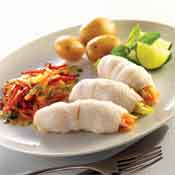 Summer arrived very suddenly this year, calling for a quick change in the kitchen –and what's needed now is light food that's simple to make and is easy on the eye. This ties in very well with the Irish Heart Foundation's philosophy, so don't forget that their annual Happy Heart Eat Out campaign is continuing throughout the country for the whole month of June. And the message this year - "For a Happy Heart.....portion size matters!" – is equally important at home as well as when eataing out. The Irish Heart Foundation has a great collection of recipes for delicious dishes that are low in fat, and full of fruit and vegetables – for further details visit their website, call them on (01) 668 5001 or get a copy of their Happy Heart Cook Book (ISBN 0717130525 – any bookshop can order using this reference if it is not in stock).

Roulade of Sole Fillets, Green Mango and Lime Salsa
This light and attractive dish comes from Olivier Pauloin-Valory, of Les Olives Restaurant in Naas, County Kildare, who contributed it to the Happy Heart Eat Out Recipe Magazine. Serves 4

12 fillets (3 fish) black sole or lemon sole, skinned
1 carrot, sliced thinly, approx 10cm/4 inches in length or wider than fillet
1 small white leek, sliced thinly, as above
1⁄4 small celeriac, sliced thinly, as above
30ml/2 tablespoons olive oil
A little salt and freshly ground black pepper
Baby boiled potatoes in their skins to serve
Cling film
Salsa:
1 green mango, peeled and sliced thinly
1 red chilli, deseeded and sliced thinly
2 limes, juiced
3 mint leaves, finely sliced
Chef's note: This salsa does not need much salt

What you do:
Flatten each fish fillet slightly. If using lemon sole be very gentle. This can be done easily between two sheets of cling film. Keep fish in the fridge. Add the sliced vegetables, a little water, a little olive oil and a little salt to a wide pot with a lid. Cook quickly until tender. Remove and leave to cool on a tray. To make the salsa, mix the mango and chilli together with the
lime juice and the rest of olive oil. Season and add the mint. Roll the fish with a small amount of vegetables in the middle. Roll tightly in cling film. Steam the roulades for about 6 to 8 minutes, depending on the thickness of the fillets. Using kitchen scissors, cut one side of the cling film and slide the roulade out. Serve three fillets per person with a heap of mango salsa and
juice. Serve with new boiled potatoes in their skins.
Chef's Note: To save time when slicing the vegetables, use a mandolin.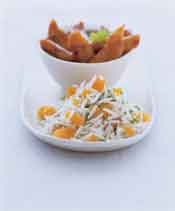 SHORT ITEM: Carnival Chicken

This tasty little number could well become a favourite. Serves 4:

4 chicken fillets
Marinade: In a large bowl, mix together: 1 tsp each: ground ginger, mixed herbs, Cajun spice, soft light brown sugar & Tabasco sauce; 1 tbsp each light soy sauce & balsamic vinegar; 2 tbsp each clear honey & olive oil and the juice of 1 lime
For the Apricot & Coriander Basmati Rice
7 oz/200g basmati rice
2 tbso fresh chopped coriander
2 tbsp olive oil
4 oz/100g ready to eat dried apricots, diced
salt & freshly ground pepper.

Slice the chicken fillets into strips and add to the marinade; toss to coat evenly.
Cook the rice in a large pan of lightly salted boiling water for about 10 minutes, until just tender; drain well, turn into a bowl and gently stir in the coriander, olive oil and chopped apricots. Season, cover and keep warm until required.
Meanwhile, cook the chicken strips (with their marinade) briskly in a large preheated non-stick frying pan; stir-fry over fairly high heat for 6 or 7 minutes, or until the chicken is thoroughly cooked and the marinade has reduced to make a nice coating.
Serve the chicken strips with the apricot & coriander rice, garnished with lemon or lime wedges, and offer a green salad on the side.

Ingredient of the Week - Basmati Rice

What Is It? Widely regarded as the best long grain rice, basmati rice is renowned for its slender, separate grains delicate yet distinctive flavour and fragrance.

Where Does It Come From? Although similar products are grown in other areas, traditional basmati rice is grown only in the foothills of the Himalayas, where the climate an unique soil conditions create its unique qualities.

Where Can I Get It? As interest in authentic ethnic cooking has grown in this country, the choice of rice varieties (not so long ago restricted to 'long grain' for savoury dishes and 'short grain' for desserts like rice pudding) has grown, and basmati rice is now widely available in specialist stores and good supermarkets. Ethnic food stores sell it loose (often in several grades) or in large bags, which are good value if you eat a lot of rice, and branded products such as Tilda and Sharwood's are easy to find in supermarkets.

What Can I Do With It? Basmati rice can be used in any dish where long grain rice is called for and, to be sure of fluffy separate grains, it is best to cook it in much the same way as pasta: bring a large pan of lightly salted boiling water to the boil, tip in the rice, stir and bring back up to the boil, then simmer for about 10 minutes or until the rice is just tender. Drain in a colander, cover and leave to stand for 2 minutes, then fluff up with a fork. It is equally good in hot dishes, as a hot accompaniment or served cold in salads – and its special flavour also makes it an interesting ingredient for desserts.