Hazelnut Coffee Cake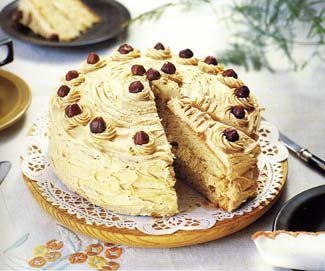 Using quality butter makes all the difference in baking, as my mother always said, and this was one of my father's favourite cakes.

Coffee and nuts combine well in cakes - walnuts are most usual, but hazelnuts make an even better combination as you'll find when you try this simple but attractive cake, which is from my 1992 cookbook, Meals For All Seasons (available only from Ireland-guide .com).

6 oz/175g softened butter
6 oz/175g caster or soft light brown sugar
3 large eggs
6 oz/175g self-raising flour, sifted
2 oz/50g ground hazelnuts
Butter Cream Icing:
6 oz/175g softened butter, preferably unsalted
12 oz/350g sifted icing sugar
2 tablespoons coffee essence
Whole hazelnuts to decorate.

Preheat a moderate oven, 180'C, 350'F, Gas mark 4.

Grease two 18 cm/ 7" sandwich tins.

Cream the butter and sugar until light and fluffy, then beat in the eggs, one at a time, adding a spoonful of flour with each one.

When thoroughly mixed, combine the remaining flour and the nuts; mix in well, but do not over-beat.

Divide the mixture between the prepared sandwich tins, smooth the tops and bake in the centre of the preheated oven for about 30 minutes, or until springy to the touch and just shrinking from the tins.

Turn out onto a wire rack and leave to cool.

Meanwhile make the icing: Cream the softened butter well, then gradually beat in the sifted sugar and the coffee essence.

When the sponges are cold, sandwich them together with some of the icing and use the rest to cover the top and sides - any remaining icing can be piped around the top in rosettes, a whole hazelnut decorating each one.

Variation: Try adding a couple of tablespoons of Irish Cream liqueur to the icing.