Lamb Cutlets with Fresh Herb Dressing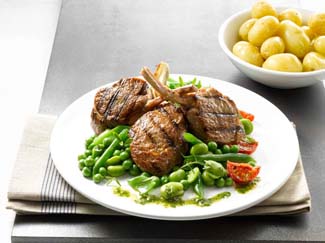 Lamb cutlets, lamb chops or leg steaks are equally nice for this fresh-flavoured dish, which takes under half an hour to prepare and cook.

Serves 4

12 lamb cutlets, well trimmed
1 tablesp. olive oil
Zest and juice of 1 lemon
Salt and freshly-ground black pepper

Dressing

2 tablesp. olive oil
Fresh basil leaves, chopped
2 cloves garlic, crushed
Salt and freshly-ground black pepper

Place the lamb in a shallow dish. Mix together the oil, lemon zest and juice and seasoning. Drizzle the mixture over the lamb and marinate at room temperature for 15 minutes.

Meanwhile mix together the dressing ingredients.

Heat the barbecue, grill or griddle pan to high and cook the lamb for 3-4 minutes on each side until cooked to your liking, turning once.

Delicious served with new Irish potatoes and a mixture of new season vegetables - broad beans are delicious, also early peas or beans perhaps.

Drizzle over a little of the dressing.

Gently sautéed, chopped cherry tomatoes are a nice addition.