Lemon Tart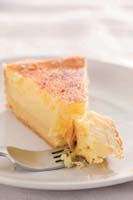 The chef behind the familiar stylishly simple food at Avoca Handweavers, Leylie Hayes, contributed this gorgeous lemon tart recipe to Truly Tasty (Atrium, hardback 332pp, €19.95/£17.95 - a beautiful and truly unique cookery book, in which well known Irish chefs have created recipes specifically for adults living with kidney disease – and all royalties go to the Irish Kidney Association) - proof that being on a restrictive diet needn't always mean no treats.

Dietitian's notes:

Per portion this dessert provides 1⁄2 a portion of fruit and 1 protein exchange. While you don't usually think of desserts as having a lot of protein, this recipe has approximately 1 egg per portion and therefore it has been counted in the protein allowances for this recipe. Check your daily allowances to see if you have enough remaining for this dessert.

Serves 6

FOR THE SHORTCRUST PASTRY

100g (4oz) plain flour
75g (3oz) butter, diced
15g (1⁄2 oz) caster sugar
1 egg yolk

FOR THE LEMON TART FILLING

200g (8oz) caster sugar
Juice of 5 lemons
Grated zest of 3 lemons
4 eggs
175ml (6fl oz) double cream, whipped
2 level tsp icing sugar, for dusting

To prepare the shortcrust pastry, sift the flour into a bowl and rub in the butter until the mixture resembles fine breadcrumbs. Stir in the caster sugar, then add the egg yolks and mix to form a dough; add a little cold water if necessary.

Wrap in clingfilm and leave to rest in the fridge for 20–30 minutes. (Or it can be left in the fridge overnight.)

Preheat oven to 180°C/350°F/Gas 4.

Roll out the dough on a lightly floured work surface and use to line a deep 18cm (7in) loose-bottomed flan tin. To bake blind, cover the pastry with greaseproof paper and fill with baking beans (either ceramic ones or any raw dried beans, which you can re-use for baking blind).

Bake in the pre-heated oven at 180°C/350°F/Gas 4 for 20 minutes. Remove the beans and greaseproof paper and return the pastry case to the oven for 5–10 minutes, until very lightly coloured. (After removing the beans and paper, you could brush the partly cooked pastry with lightly beaten egg white before returning it to the oven. This helps to form a seal and keeps the pastry crisp when you add the filling.)

To prepare the lemon tart filling, put the sugar and lemon juice in a large bowl and stir until the sugar has dissolved. Add the lemon zest, whisk in the eggs and finally stir in the cream.

For best results leave the filling, well covered, in the fridge overnight. (If you don't leave it overnight it will separate during cooking, giving a custard bottom and foamy top.)

The next day, preheat oven to 140°C/275°F/Gas 1. Remove mixture from fridge and stir gently to combine it again. Pour the filling into the baked pastry case and cook it for 1 hour, until set. Remove from the oven and leave to cool.

To serve, dust the tart with icing sugar and then caramelise it, if you like, under a very hot grill.