Lobster Salad with Lemon and Dill Mayonnaise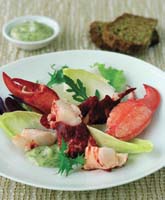 This old favourite is from Trish O'Mahony who, together with her husband Fergus, owns Mary Ann's Bar & Restaurant in Castletownshend, County Cork. This salad (and a crab variation) often makes an appearance on the daily blackboard specials in the bar, served with their famous home-made brown bread, and it never fails to draw compliments. The leftover lobster shells can be frozen and used for making lobster stock for soups.

Serves 4.

2 live lobsters, each about 500g/1lb 2oz
1 small onion, sliced
1 slice lemon
1 bay leaf
2 fresh dill sprigs
handful fresh parsley stalks
few black peppercorns
120ml/4fl oz white wine
100g/4oz mixed salad leaves, eg
chicory, rocket and lollo rosso
2 tbsp French vinaigrette (home made or best quality bought)
salt and freshly ground black pepper

To Serve

lemon and dill mayonnaise (see below)
freshly baked brown soda bread


To prepare the lobsters, place each one on a board and cover it with foil and a cloth. Hold firmly down with one hand and, with the point of a large knife, pierce down to the board through the cross on the centre of the head.

To cook, fill a large deep pan with enough salted water to cover the lobsters, and bring to the boil. As a guide allow at least 1 litre/13/4 pints to 1 teaspoon of salt per 500g/1lb 2oz lobster. Add the onion, lemon, bay leaf, dill sprigs, parsley, peppercorns and white wine and simmer for 5 minutes to allow the flavours to combine.

Increase the heat and when the flavoured water is boiling, add the lobsters and boil for 5 minutes for the first 500g/1lb 2oz, adding an extra 3 minutes for each extra 500g/1lb 2oz. When the lobsters are cooked, the colour changes to bright red. Transfer to a large sink or basin of iced water to cool down immediately.

When the lobsters are cool enough to handle, pull the claws from the bodies. Crack the claws and remove the meat. With a large chef's knife cut each lobster in half from the back, along the length of its body, and remove its intestinal tract, then discard. Remove the tail meat and slice it up neatly.

To make the lemon and dill mayonnaise, stir the finely grated rind of 1 lemon and 2 tablespoons of chopped fresh dill into about ½ pint/300ml home-made (or best quality bought) mayonnaise.
To serve, toss the salad leaves in the French vinaigrette, then season to taste and pile in the centre of each serving plate. Arrange the lobster meat on top and spoon a dollop of mayonnaise onto each plate. The remainder can be served in a small dish on the table along with a basket of freshly baked brown soda bread, allowing guests to help themselves.