Mallard & Cabbage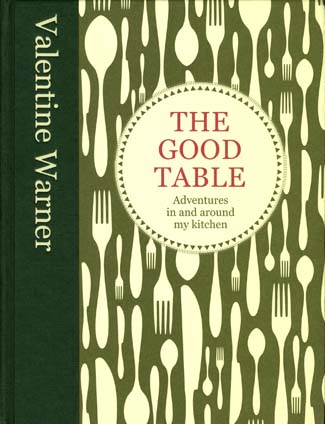 Fans of the hearty, down-to-earth British TV foodie Valentine Warner will be pleased to see his latest book, The Good Table (Mitchell Beazley, hardback, stg £20).

As usual with this likeable chef, you get much more than a book of recipes; he describes this particular collection as 'my heart on plate' and it's an interestingly personal book, also very practical and with plenty of background information along with the typically gutsy recipes - many of them, like the example here, with a strong local country flavour, plus a sprinkling inspired by sunnier destinations.

"This is one of my favourite dishes... I'm happy to see that mallards are appearing more commonly in good butchers and some more adventurous supermarket branches. During the shooting season, I like to stockpile them in the freezer, as every one I sit down to reinforces my fear of running out. I recommend that you serve half a bird per person because they do not have as much meat as might at first appear (although I must admit that I can eat a whole one with ease). After you've tried a mallard, you'll never look upon the village pond in the same way..."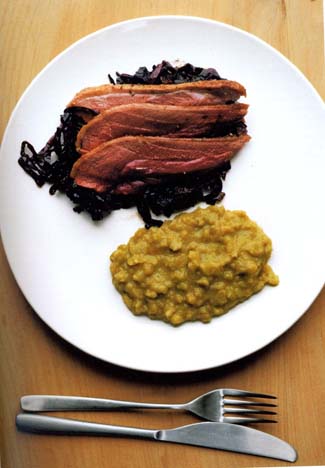 Serves 4

70g butter, at room temperature
l red cabbage, cored and finely sliced
12 plump pitted no-soak prunes (and a couple to eat while cooking), roughly chopped
l bay leaf
6 cloves
flaked sea salt and black pepper
juice of l orange
2 tablespoons red wine vinegar
1-1/2 teaspoons soft light brown sugar
2 mallards, at room temperature, giblets removed

Preheat the oven to 200°C fan/220°C/Gas 7. Melt 30g of the butter in a large frying pan over a medium heat until it is foaming. In a colander, rinse the cabbage with water. This is purely so that when the water has drained away there will be water droplets to take to the frying pan and soften the cabbage.

Drop the cabbage into the frying pan with the prunes, bay leaf, cloves, salt and an enthusiastic grinding of black pepper (when adding the cloves, rub and pinch the crown end to really deploy their full capability).

Fry and stir vigorously for 10 minutes or so. Feel free to dribble in a little water if the cabbage appears to burn before loosening up - though a little singeing is fine and tasty too. When the cabbage has softened but retains a slight bite, pour in the orange juice and vinegar.

Evaporate the liquid away completely. The acids will have snatched back the vivid colour of the cabbage. Scatter in the sugar and cook, stirring continuously, until you start to smell it caramelising. Taste and rejig the seasoning accordingly.

Allow the mixture to cool a little before spooning it into the empty cavity of the ducks. Pack it in without really forcing it - the cooking time would change if it were too densely packed. There should be some just peeping out of the end.

Lay the ducks on a roasting tray with the breasts facing up. Season them liberally before smearing the remaining butter over the mallards. Roast them in the oven, with the stuffed ends facing the door, for 27 minutes.

Remove the birds from the oven and rest them for 5 minutes before carving. Serve the breast on the cabbage that you have spooned out. Both go excellently with Green Split Peas, which can be happily cooked in advance and reheated with a splash of water.

Note: The duck flesh should be pinky-purple near the bone when served, as it will be tough, ungiving and no doubt disappointing if overcooked. The little legs can always be put back in the oven if you would like them more done.