Minced Lamb with Pak Choy and Chillies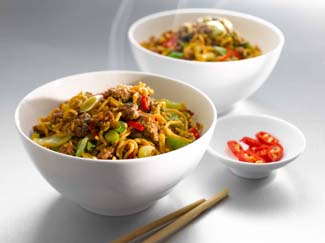 Quick and easy to prepare, you can have this tasty dish on the table in fifteen minutes flat.

Serves: 4

500g / 1 ¼ lb lean minced lamb
1 tablesp. oil
3 cloves garlic, crushed
2 red chillies, deseeded and finely chopped
4cm/2 in piece of fresh ginger, peeled and finely chopped
2 heads of pak choy, Irish grown if possible
300g/ 11 oz fine straight to wok noodles
4 tablesp. soy sauce
1 tablesp. brown sugar
Rind and juice of 1 lime
4 scallions, thinly sliced
Handful of basil leaves

Heat a wok and add a little oil.

Stir-fry half the lamb until browned.

Remove to a plate then stir-fry the remaining lamb and remove.

Add the garlic, chillies and ginger and cook for a minute.

Return the lamb to the wok and stir through for a couple of minutes to reheat. Cut the pak choy into thin slices across the stem and leaves. Then add into the wok along with the noodles. Combine well and continue to cook until the pak choy just wilts.

Stir through the soy sauce, brown sugar and lime rind and juice.

Remove from the heat and add in the scallions and basil.

Serve with crusty bread and green salad.