ONeills Dry Cured Bacon salad with figs and an apple & honey dressing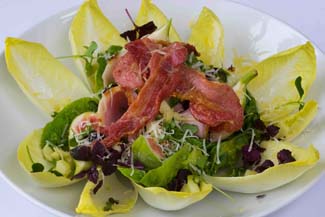 This lovely dish was created by Derry Clarke of the acclaimed Dublin restaurant, L'Ecrivain, for the lunch held to celebrated the Irish Food Writers Guild Awards 2011 - which showcased all of the award-winning products. Although served as starter or 'between course' on this occasion, the quantities are generous and this would easily make a summery main course to serve at least four. It would also be good as part of a buffet selection for a party, served on a platter.

Serves 4

900g (2lb) dry-cured bacon loin
150ml (1/4 pint) dry cider
1 tbsp strong mustard
1 tsp honey
8 rindless dry-cured streaky bacon rashers
2 heads chicory
2 Little Gem lettuce leaves
4 ripe figs
4 tbsp freshly grated Gabriel or Desmond cheese
15g (1/2oz) mixed microcress sprigs

FOR THE DRESSING:

2 tsp dry cider
1 tsp honey
1 tsp Dijon mustard
4 tbsp olive oil
1 small crisp eating apple
sea salt and freshly ground black pepper

Preheat the oven to 180ºC (350ºF), Gas mark 4.

Place the bacon loin in a small roasting tin and lightly slash the fat in a criss-cross pattern, then pour around the cider. Cover loosely with foil and bake for 20 minutes per 450g (1lb). Remove the foil and spread over a thin layer of mustard and then drizzle over the honey. Return to the oven and glaze for another 10-15 minutes. Leave to cool at room temperature.

To make the dressing:

Place the cider in a bowl and whisk in the honey and season to taste. Slowly whisk in the Dijon mustard and olive oil until you have achieved a thick emulsion. Peel, core and dice the apple and then fold into the dressing. Set aside at room temperature until needed.

When ready to serve, preheat the grill. Arrange the streaky bacon rashers on the grill rack and cook until very crisp and lightly golden. Meanwhile, trim down the chicory and Little Gem lettuce leaves, then arrange the chicory like petals around the edge of each shallow serving bowl. Add a layer of the Little Gem lettuce leaves to each one. Cut the figs into quarters and arrange on the salads.

Using an electric carving knife, slice the bacon loin as thinly as possible and then shape into cones. Place approximately five slices of bacon into each salad; the remainder can be used in another dish. Then scatter the Gabriel or Desmond cheese and microcress on top. Spoon over the apple dressing and serve at once.