Paprika Spiced Pork Belly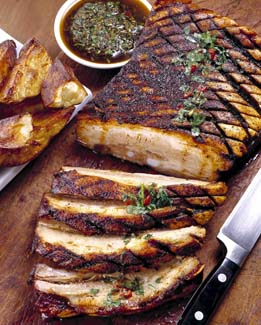 Pork belly (also known as lap of pork) is currently trendy in restaurants, but tastes much better when cooked at home. It's easy on the budget and is often the only cut available rind-on from butchers/supermarkets, who now tend to sell everything without the skin – so no delicious crackling.

Belly of pork makes brilliant crackling (and lots of it) and, although it may look fatty, much of the fat melts away during cooking to leave beautifully succulent meat.

This is a spicy dish, but the joint is also delicious cooked plain (ie simply scored and rubbed with a little salt) to serve traditionally with gravy, apple sauce and seasonal vegetables - an ideal candidate for a free-range roast.

Serves 6

1½ kg/31/4 lb pork belly in one piece, rind on, well scored
1 tbsp smoked paprika
1 tsp salt
Dressing;
4 tbsp olive oil
2 garlic cloves, chopped
2 tsp smoked paprika
2 scallions, chopped
1 tbsp fresh coriander
1 red chilli, chopped
Salt and black pepper

Preheat a moderate oven, 180ºC (350Fº) Gas Mark 4.

Place the pork on a rack over a deep roasting tin, then pour half ?a kettle of boiling water over the rind; discard the water and dry off the pork with kitchen paper, this will help to give you really crisp crackling.

Mix the smoked paprika and salt together. Spread it over the rind and meat. Place the pork back on the rack over the roasting tin and place in the hot oven for 2 hours, or until the meat is tender and the crackling is well browned and crisp.

Potato wedges, seasoned with a sprinkling of smoked paprika and salt, can be cooked in the oven with the pork for the last half hour or so.

To make the dressing:

heat the olive oil, add the garlic and allow the garlic to just turn golden – no more, tip the oil and garlic into the food processor. Add the smoked paprika, scallions, coriander, chilli and whiz for a minute; taste for seasoning.
Slice the pork thickly (remove the crackling for easy slicing and serve separately) and serve with a spoonful of the dressing.

• LUNCH IDEA

Any leftovers can be used to make a great sandwich for lunch next day – try tossing a mixture of grated carrot, bean sprouts and thinly sliced scallions in a little of the dressing and use with thinly sliced cold pork to as a filling for good bread.