Pesto Lasagne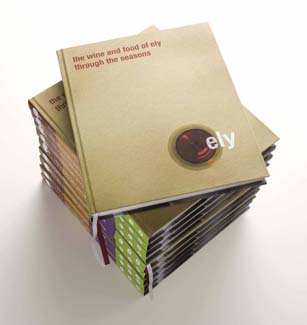 Homemade pasta is easier to make than you might think, as shown by this appealing vegetarian main course from Erik and Michelle Robson's impressive and practical recently published cookbook 'The Wine and Food of Ely Through the Seasons' (full colour hardback, €29 from Ely restaurants and selected wine merchants).

Ely restaurants are renowned for serving organic beef, pork and lamb from the family farm in the Burren, County Clare and for their exceptional wine list (over 100 wines by the glass), as well as food that - despite the scale - is all home cooked.

This recipe for Pesto Lasagne demonstrates their down-to-earth attitude and attention to detail – and, like all the 70+ recipes in the book, two wine suggestions are offered to accompany the dish.

Although lengthy, this recipe is straightforward and would be relaxing to prepare when you are not rushed (and, whilst they wouldn't do this at Ely, commercial pesto and/or lasagne sheets could be used instead when you're busy).

The pesto mix can be prepared in advance, but the lasagne sheets should be cooked just before you are about to assemble the lasagne. If you don't have a pasta machine, roll the pasta out into square sheets with a rolling pin on a floured surface. Serves 6.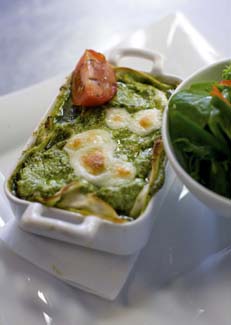 What you need:

400g lasagne sheets (see below)
1 quantity pesto (see below)
250g tub ricotta, drained
3 large, ripe tomatoes
50g parmesan cheese, grated
50g pine nuts, toasted
1 bunch of basil, shredded
rocket leaves, to serve

First make the Pesto:

200g toasted pine nuts
400g fresh basil leaves
3 garlic cloves, roughly chopped
1 tsp rock salt
200ml extra virgin olive oil, plus 1 tbsp extra
100g parmesan cheese, finely grated.

Put all ingredients except the parmesan into a food processor and pulse until it reaches a creamy consistency, then add the parmesan and pulse again.

Next make the lasagne sheets (makes about 400g)

350g good Italian '00' flour, plus extra for dusting
2 eggs and 3 egg yolks (all large)
pinch of fine table salt
1 tsp olive oil
1 tbsp tepid water (or more if needed)

Put the flour, eggs and salt into a food processor and blitz until the mixture resembles coarse crumbs. Add the olive oil and blitz again briefly until the dough starts to come together. Add the water, being careful not to add too much – you need to make sure the dough does not become too sticky.

Blitz again, then tip into a bowl and knead together for about 2 minutes. Turn on to lightly floured surface, wrap with cling film and leave aside to rest for half an hour in fridge.

Then, cut the dough into two pieces and work with one at a time. Roll out the dough thinly on a lightly floured surface and feed through the pasta machine several times until it is about 1mm thick. Store the sheets under a damp cloth while you are working

To assemble and cook the dish:

When ready to use the pasta, preheat the oven to 180ºC.

Cook the lasagne sheets in boiling, salted water for about 2 minutes. Drain and use immediately, or put into iced water for 5-10 minutes.

Put the prepared pesto into a large mixing bowl and mix in the ricotta. Slice the tomatoes.

Arrange the lasagne sheets in an ovenproof dish, and spread with the pesto mix. Follow with a layer of tomatoes. Keep layering the pasta, pesto and tomatoes, finishing with a layer of pesto. Bake for 10-12 minutes, until cooked through.

Meanwhile, preheat the grill.

When the lasagne is ready, sprinkle with the parmesan and grill for a few minutes until golden.

Cut into wedges, sprinkle with toasted pine nuts and basil leaves and serve with rocket salad.

Wines:

"Pinot Grigio can be a little neutral but Alois Lageder in the Alto Adige of Northern Italy offers more than most. Alongside bracing crispness and acidity, with flavours of lime and a hint of ginger spice handle the pesto in this dish. Also try 'Wild Boy' Chardonnay by Au Bon Climat in Santa Barbara County, USA."