Pigeon with Pommes Mousseline and Pancetta Peas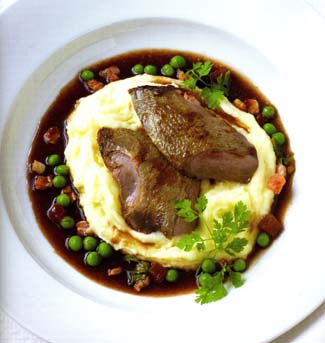 From MasterChef AT HOME (DK hardback 366pp, £20 / €25)

Fresh peas are listed for this dish from Claire Lara (lecturer and 2010 Professionals champion) but, as peas freeze exceptionally well, frozen peas make a perfectly reasonable alternative – particularly as pigeon is in season longer than peas.

PREPARATION TIME 30 minutes
COOKING TIME 1 hour
SERVES 4

4 pigeons
225g (8oz) butter, softened
250g (9oz) duck fat
4 Rooster potatoes
salt and freshly ground black pepper
200ml (7fl oz) double cream, warmed
1 tbsp olive oil
1 garlic clove, crushed
1 sprig of thyme
100g (31/2 oz) pancetta
175g |6oz] shelled fresh peas
300ml (10floz) game stock
200g (7oz) quince jelly, finely diced
2 Baby Gem lettuce, finely shredded
1/2 bunch of flat-leaf parsley

1 Preheat the oven to 130ºC (250ºF/Gas 1) and remove the wishbone from the pigeons. Heat 75g [21/2 oz] of the butter in a heavy saucepan and brown the pigeons by turning the birds quickly in the hot butter. Reserve the butter.

2 Remove the pigeons from the pan, leave to cool a little and then remove the legs. Place the legs in an ovenproof dish with a close fitting lid, melt the duck fat and pour it over the legs. Cover and cook in the oven for about 45 minutes or until tender, turning the legs over once. Remove from the oven and increase the temperature to 220ºC (425ºF/Gas 7).

3 To make the pommes mousseline, cook the potatoes in a saucepan of lightly salted simmering water for about 20 minutes or until soft. Drain and skin the potatoes when they are cool enough to handle. Then put them through a vegetable mouli and gradually beat in 150g (51/2 oz) of the butter and all the warmed cream. The potato puree should be very smooth and shiny. Season to taste. Keep warm.

4 For the pancetta peas, heat the oil in a heavy saucepan. Add the garlic, thyme, and pancetta and cook over medium heat for about 10 minutes or until the pancetta is crispy. Drain off excess fat and remove the thyme. Simmer the peas gently in salted water for 10 minutes until just tender. Drain and set aside

5 To make the sauce, pour the stock into a saucepan and reduce by about half until it has reached a syrupy consistency and rich colour.

6 Put the pigeons in a roasting tin, add seasoning and brush with the butter used in step 1. Roast in the oven for 15 minutes, basting once. Leave to rest and remove the meat from the leg bones.

7 Add the peas and lettuce to the browned pancetta with 2 tbsp of sauce. Heat gently until the lettuce has wilted slightly.

8 Carve the pigeon breasts and lay on the pommes mousseline in 4 bowls. Scatter the pea mix, pour on the sauce, and garnish with parsley.